Among the other clips being hosted by
innercalm
at the moment is this one featuring
Hal Hardy
of vocal group
The Neptunes
.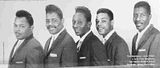 The Neptunes began in the 1950s, founded by Tom Holbert and Paul Hendricks, to whom they added Hal as the lead singer, with Robert 'Dickey' Dixon (a professional boxer), Joe Wade (nephew of singer Johnny Bragg), James Porter Box and Henry 'Sonny' Short. On this episode of Night Train!, Hal sang his version of the Ray Charles song
What'd I Say?
, with his own local Tennessean adlib:
"Tell your momma! tell your brother!
I'm gonna take you back to Murfreesboro'!"
Paul Hendricks may be the guitarist playing the distinctive opening riff, and Joe Wade is centre of the backing trio. Later, Hal had a solo hit with House Of Broken Hearts b/w Love Man.
Information from the Night Train To Nashville liner notes. Neptunes photo courtesy of Carissa Dixon-Malone. Video clip of Hal Hardy archived by
innercalm
. One website that offers the NIght Train! shows on DVD or video (NTSC-VHS?) is The Video Beat. Leave me a copy, I don't get paid 'til the end of the month!...