From the same episode of
Night Train!,
on WLAC-TV Channel 5, we have the opening credits for that episode in June/July 1965, listing the evening's performers, and then a rendition of
Shotgun
by
Buddy and Stacey
, supported by the show's backing band,
The Royal Company
, here with a young
James Hendrix
.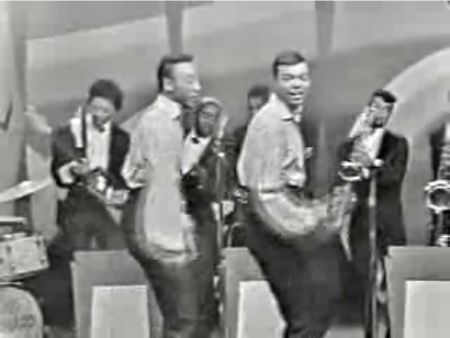 It was not the first visit to Nashville for Jimi Hendrix. Jimi Hendrix had been demobbed from Fort Campbell, an army base in Kentucky in July 1962 after breaking his ankle in parachute training. After wasting his money, Jimi hung around in Clarksville and then, with an army friend Billy Cox, later came to Nashville to find some work in clubs with their band, now called the
King Kasuals
. After travelling to New York City and winning the Apollo Amateur Night, but failing to make any bigger impression, he returned. Nashville would become one of several regular places to which Jimi would return in times of need.
Eventually getting a break, he toured with the
Isley Brothers
in 1963/4, before quitting their band on a stop in Nashville once more. This time he hung around for a while, before joining several mid-western tours organised by DJ
Georgeous George Odell
:
"So then I quit, I quit them [The Isleys] in Nashville somewhere. And eh, ??? this guy, he was on a tour with B.B.King, Jackie Wilson and Sam Cooke, and all these people Chuck Jackson. So I played, eh, I was playing guitar behind a lot of the acts on the tour."
Jimi worked like this for over a year, basing himself in Atlanta this time when his money ran out and Georgeous George couldn't get enough bookings, offering to work as a valet for acts if they didn't need musicians. Here, he was spotted by
Little Richard
who hired him for his band:
"I guess about, I guess I played with him for about 6 months, I guess. About 5 or 6 months. And I got tired of all that, played some shows with Ike and Tina Turner, and I went back to New York and played with King Curtis and Joey Dee"
Jimi was being a little reticent. Many people credit his time with Little Richard as an important influence for Jimi, giving him the chance to experiment with his stage persona and play with seasoned musicians. Richard told him once:
"Look. Don't be ashamed to do whatever you feel. The people can tell if your a phony. They can feel it out in the audience. I don't care if you're wild, I don't care if you're quiet. They'll know if your putting yourself into it, whatever it is."
Others remember Jimi on that tour:
"Richard didn't hide Jimi. He used to allow him to do that playing with his teeth onstage and take solos. It became a part of the act, all that playing behind his back and stuff."

However, it became clear that Jimi was not comfortable with the tough life on the road, travelling by bus on a gruelling schedule. He was unnerved by some of the racially-charged scenes he saw in towns and venues in the South, and while he continued to develop his playing, his moodiness led to lateness for shows and rehearsals.

Returning to Nashville once more to regroup and earn some money, Jimi got work on the Night Train! with the backing band. Also around June - July 1965, at the Starday Studio, on Dickerson Road in Nashville, Jimi played rhythm guitar on Frank Howard & the Commanders' record I'm So Glad. Frank Howard and The Commanders were also regular performers on Night Train and on its successor The Beat !!!!

Soon after, Jimi left Nashville and returned to New York, and began to think about how he could break out on his own...
Watch:
Buddy & Stacey with The Royal Company - Shotgun
Information found from Early Hendrix website, and the Life And Times of Little Richard: Quasar Of Rock by Charles White. The most detailed biography of the early career of Jimi Hendrix on the internet that I've found can be read at the Soul-Patrol, titled
Jimi Hendrix And The Chitlin' Circuit
by Oscar J Jordan III.