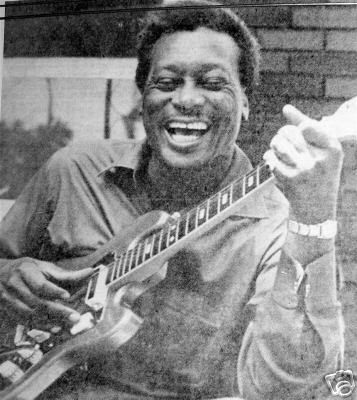 Arthur Gunter
was born on the 23rd May 1926 in Nashville, Tennessee. Gunter was a musician from an early age; as a child, he was in a gospel group with his brothers and cousins called the
Gunter Brothers Quartet
. In the early 1950s he played guitar in various blues groups around Nashville. Gunter was a regular at the record shop owned by
Excello
chief Ernie Young and the association led to a recording contract in 1954. In 1955, Gunter recorded
Baby Let's Play House
for Excello, which became a local hit. It became nationally known later that year when
Elvis Presley
recorded a version for
Sun Records
. His first royalty check, received that same year, was for $6500. Gunter was less than impressed, however, with the attitude of the rock n'roll kid and his management:
"Elvis got that number and made it famous. But I didn't get a chance to shake his hand."
Arthur Gunter continued to record for Excello until 1961. His regular band broke up in 1966 and he moved to Pontiac, Michigan, performing only occasionally thereafter. He died of pneumonia on March 16th 1976 at his home in Port Huron, Michigan.
Arthur Gunter - Baby, Let's Play House (Excello) 1955
Buy the CDs Night Train To Nashville Vols 1 & 2 here:
Information from articles by

Steve Kurutz

, All Music Guide, and

Fred Reif

, from his liner notes to Baby Let's Play House: the Best of Arthur Gunter (Excello 1995). Thanks to

Kay Clary

and

Donica Christensen

of Commotion PR for allowing links to downloads from the CD.