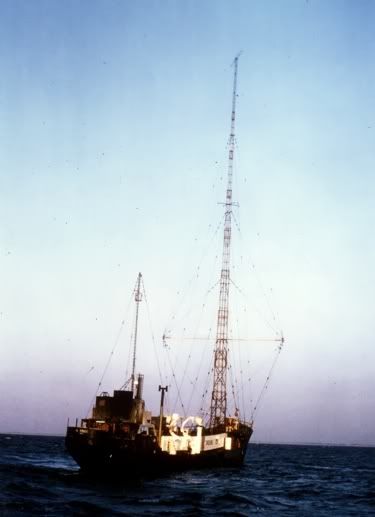 Radio Caroline
and the other pirate radio stations of the 1960s freed up the airwaves of a Britain sorely underserved by the offical channels of the British Broadcasting Company. First broadcasting from the MV Frederica off the coast of Essex in April 1964, outside of British territorial waters, it soon merged with Radio Atlanta, whose boat, the Mi Amigo, became
Radio Caroline South
, while the Frederica sailed to the Isle of Man to become
Radio Caroline North
, where its broadcasts were even more heavily influenced by jazz and rare blues and soul. They continued to broadcast until 1967, when offshore radio was outlawed. During that time, they transformed the musical tastes of Britain in the 1960s. Although their influence was equally as powerful for British beat and rock, they had a major influence in promoting soul music during the years 1964 and 1965.
This post recounts an unusual event from May 5th 1965 at Radio Caroline. Keen to do things differently from the BBC, the decision was made to invite renowned jazz musician
Jimmy Smith
aboard, who was in London to record a soundtrack for the film Where The Spies Are and to perform at the Royal Festival Hall. Jimmy brought a precious Hammond B3 organ with him, and his band, for an on-air performance live from the deck of the Mi Amigo.
Simon Dee
introduced them, and then Jimmy and drummer
Tony Crombie
, and guitarist
Tony Thorne
performed two tunes titled Hip Ship Blues and Satin Doll. Despite the experience of freezing on the windswept deck, Jimmy Smith also recorded several jingles that were played on Radio Caroline North.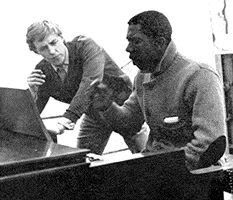 Born in Norristown, Pennsylvania, on Dec. 8, 1925, Jimmy Smith initially learned piano at home from his father and mother, he was a prodigy and was renowned for his endless ability to improvise without repetition. After service in the war, he went on to study bass and piano at music schools in Philadelphia, despite being unable to read music - a fact his teachers never discovered! He experimented with the Hammond organ starting in 1951, but it took him until 1955 before he had finally found a sound that was distinctivey his own. He got work playing in some of New York's most famous clubs, including
Cafe Bohemia
and
Birdland
. Offered a contract with
Blue Note
soon after, his 1956 album
New Sounds On The Organ
pushed the organ as a jazz instrument. In particular, since he was not always accompanied by a bass player in his trio, Jimmy would use his knowledge of bass to play those lines himself, giving more depth to his sound, while mimicing horn players on the other hand to give it a punchy sound. The gospel tinged, bluesy style of 'soul jazz' Jimmy Smith developed was an influence on every other organist, including r&b artist
Ray Charles
.
In 1963, Smith left Blue Note to record for Verve. Later in life he recorded for the Concord label. He died aged 79 at his home in Scottsdale, Arizona in February 2005.
Recording made by Dick Morecraft and is available permanently at
Radio London's Radio Caroline Scrapbook
.
Photographs from the book 'Radio Caroline' by John Venmore-Rowland. Jimmy Smith facts from report by Arthur Spiegelmann. Some good Jimmy Smith bio pages are this one by Bob Blumethal, and an interview conducted by Pete Fallico at jazzateria.com.