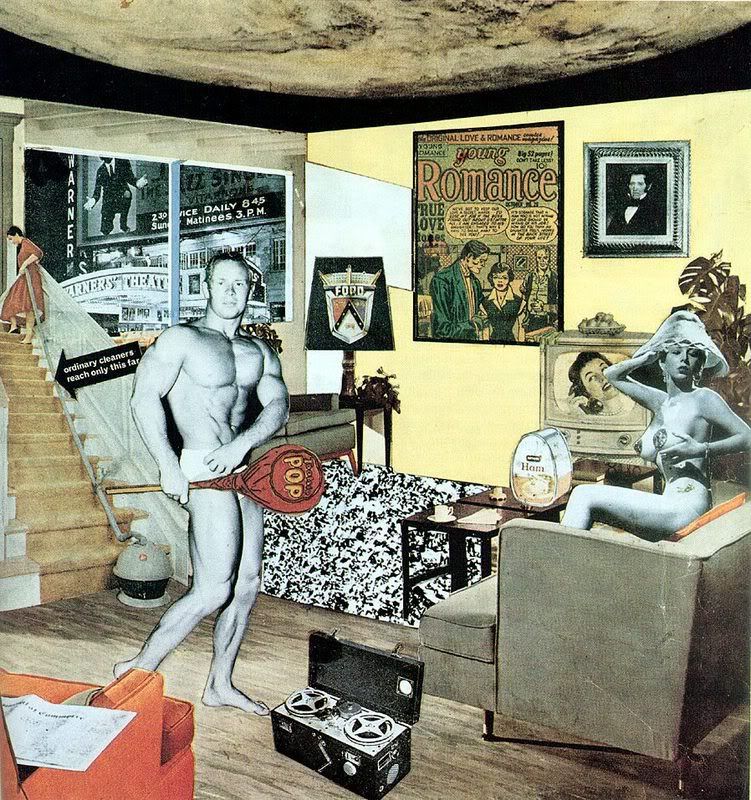 1956. This Is Tomorrow.
Richard Hamilton
presents his collage Just What Is It That Makes Today's Homes So Different, So Appealing? Pop Art starts in Britain. Bring us America!
From Belfast to Birmingham to Newcastle, to Liverpool and back to London, Britain is emerging from the years of rationing into a more prosperous era. Full of new consumer goods and other influences from America. New musical sounds of America making their way across the Atlantic and reaching young people…
Not r&b, or even rock and roll, but
skiffle
at first. The music that first encouraged thousands of British youths to pick up an instrument and form a band.
Lonnie Donegan
and other British jazz musicians, playing a spin-off from New Orleans in the jazz era in Soho clubs. A BBC reporter investigates:
"In London, the skiffle movement provides entertainment at several dozen coffee-houses [playing] blues, ballads, shanties, work songs, country songs, cowboy songs, railway ditties and even evergreen popular tunes."
Tune in to
Saturday Skiffle Club
on the BBC Light Programme on the family radio, half an hour for the teen-agers on a Saturday evening, starting in 1957. It's the place we encountered real gospel spirituals, bluegrass, country, blues and r&b for the first time. Sometimes the authentic sound of Leadbelly on a recording. More often than not (thanks to strict rules on not allowing too much 'needletime' on radio), interpreted by a British skiffler in a live performance.
Skiffle sound doesn't hold sway for long. Rock and roll hits British shores. The rechristened Saturday Club plays us more Gene Vincent, Cliff Richard, more American acts. But just half and hour still. If you want to hear some more, wait until early evening when the signal bounce is stronger off the ionosphere, sneak a transistor radio under the covers and tune into Medium Wave 208,
Radio Luxembourg
. They play the latest hits from the major record companies, who vied to sponsor a show to plug their products. The sound fades in and out in the south on England, but up North things are clearer…
TV! Neighbours rented one, it costs 10s a week from Rumbelows. Turn it on at six on Saturday and catch your favourite British rockers on
Six-Five Special
,
Drumbeat
on the BBC, or live from the Palladium on
Oh Boy!
on ITV. See some film clips of the American stars we wish would come to Britain.
1960. Finally, the end of the Musician's Union ban on American performers. Finally hear Gene Vincent and Eddie Cochran, Duane Eddy and Bobby Darin, Chris Montez, Jerry Lee Lewis and Bo Diddly - performing live on Saturday Club! Finally get to see some of their rock and roll heroes in the flesh, and along with them the latest stars of soul music, a new sound, mixed with gospel music –
Little Richard
and
Sam Cooke
, at Brighton Hippodrome in 1962, Richard jumping on the piano, never been a performance like it before.
Solomon Burke
in 1963,
Chuck Berry
in 64.
Want more?
1964. Here come the pirates, broadcasting from out at sea, far away from the reach of the BBC.
Radio London
,
Atlanta
, and most of all
Radio Caroline
. All aboard the good ships MV Mi Amigo and the Frederica. One stays south anchored off Essex, and one goes North, carrying a cargo of several thousand rare jazz and r&b records. Now everybody can hear the new sounds of British beat, and the sounds of America, the familiar and the unfamiliar, the old and the brand new. Whatever young people are listening to in Britain, now it all originates with the music of Black America…
Information about Saturday Club is from an article by Spencer Leigh. There is a nice list of all of the artists who appeared on Saturday Club
here
. I read up on Six-Five Special here. Also from The Story Of Radio Luxembourg website. Radio Caroline information is everywhere on the web, I have enjoyed looking through the Radio London scrapbook on Radio Caroline, and The Pirate Radio Hall Of Fame.