This week's post is a brief introduction into a radio station,
WLAC
, and a TV show,
Night Train
, that helped to promote and sustain the r&b scene in Nashville, Tennessee during the 1960s. Then sit back to watch the show!...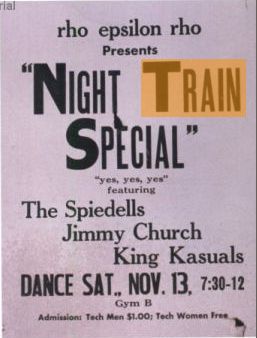 Two Nashville radio stations played a huge role in establishing Nashville's reputation. With WSM broadcasting the Grand Ole Opry and WLAC's late night disc jockeys such as the legendary
John Richbourg
(better known as John R) and
Hoss Allen
catering to R&B fans, the two stations blasted 50,000-watt nighttime signals to music fans throughout the U.S. Micael Gray, curator at the Country Music hall Of Fame, comments:
"In a lot of ways, WLAC is to R&B music what WSM was to country music. WLAC started playing R&B at night in 1946. The deejays who were playing the music were white, so there's another example of how the race barriers were tested... Just about every R&B star came through Nashville. There's all kinds of stories about people like James Brown and Little Richard stopping by WLAC. Just like today, artists were wanting to know the deejays who were playing the records."
Night Train
premiered in 1964 as one of the first music series to feature an all-black cast, presented by WVOL executive
Noble Blackwell
, and a house band led by musical director
Bob Holmes
. Produced in Nashville at
WLAC-TV
, Night Train predates the Chicago-based
Soul Train
by five years. Jimi Hendrix, swaggering in a backing band called the King Kasuals, is believed to have made his very first TV appearance.
Noble Blackwell
was particularly proud of the contribution he feels the show made reaching out to and working with local people:
"It was a period of the 60s, you had demonstrations going on in Nashville, but Night Train offered ... [more than] ... a good entertainment vehicle. We had very good artists, and of course it highlighted the local artists, who were very talented, and a lot of hard work went into it because we would practise at various community centers in Nashville. The Nashville Housing Authority allowed us to use the community centers where we would practise..."
In 1966, Nashville's TV studios still didn't have the equipment needed to produce programs in color. As a result, Show Biz Inc., which syndicated the Wilburn Brothers and Porter Wagoner's country TV shows, took WLAC disc jockey Hoss Allen and an entire cast of Nashville musicians to Houston to produce
The!!!! Beat
, an all-too-brief series that featured all the national acts such as Otis Redding, Freddy King and Clarence "Gatemouth" Brown.
Watch a clip of
The Spidells
performing
Lookin' For Love
(a hit for the
Valentinos
) on
Night Train
!
Wait! The Train's not stoppin'!!!!
Watch
Freddie North
performing
Good Times,
introduced by host
Noble Blackwell,
and
Pamela Releford
perform
He's All Right With Me
here on Night Train in 1966!
Information from an article from CMT.com, and the Night Train To Nashville booklet. Videos posted on youtube by
innercalm
. Photos from Frank Howard and Billy Lockridge.