The previous installments of this virtual tour can be found
here
at the
Eastern Market
, and
here
at
Bishop School
, and
here
at
Belle Isle
.
Onwards with our tour of Detroit with
Yusef Lateef
...
"Stage Show! Arcade, Dunbar, Castle, Willis and Warfield - potatoes for admission on Saturday between 12:30 and 4:00pm. Fifteen cents, otherwise. Freedom of action, unrestricted. Thirteen Spirits of Swing - Matthew Rucker, Milt Buckner. The Duke, The Count, The King, The Prince, The Earl. Royalty at its BEST! Sessions at the West End . . . Joe Brazil's basement ...... Woodward Avenue. Big parades. The library, the museum, Wayne University, the Toddle House - BEST pecan waffles; cheap ... Paradise Theatre ... The Zephers, Moms Mabley, Patterson and Jackson, and Willie Lewis - "Somebody spit like a dime!" The old Mirror Ballroom, echoes of the giants. World Stage ... New Music Society. The State Fairgrounds - Detroit Symphony and guest artists. Latitude."
- Saeeda Lateef, 1969
The theatres that Saeeda describes are in mostly a parlous state, or long gone. The
Madison Theater
has been demolished after serving time as the more
exotic
sort of cinema, and the site is under redevelopment today for a new entertainment complex. The
Arcade Theater
still stands at 2416 Hastings Ave. It was open from 1913-1949. The
Castle Theater
stands at 3412 Hastings Ave. It was open from 1915-1939. A combination of new forms of entertainment and music, economic troubles in the city, the flight of middle-class residents, and regeneration schemes have changed Detroit in many ways.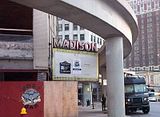 However, there is one story of hope and renewal amongst the ghosts. In 1919, the Detroit Symphony Orchestra build Orchestra Hall on Woodward Avenue and played there until 1939, when they left under financial pressures. Thus began the buildings second and more celebrated life as the
Paradise Theater.
It was a premier jazz venue,
Duke Ellington
famously playing there. But the venue closed for the last time in 1951, and in 1970 was slated for demolition.
The community rallied together over the next few months to prevent demolition and raise funds to buy the building in 1972. They started to reopen it for a few fundraising concerts to help continue renovation. By 1989, after $7 million had been raised for repairs, the hall was readopted as the home of the Detroit Symphony Orchestra.
It helped to inspire numerous other community projects to revitalise the area around Woodward Avenue.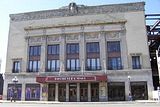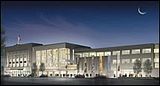 Orchestra Hall now promotes the development of the talents of young people via the addition of a new
Detroit High School for the Fine, Performing & Communications Arts
.
Yusef Lateef's Detroit (Atlantic SD 1525) 1969
Find out more about Orchestra Hall at the
Detroit Symphony Orchestra
website. To learn more about the local area, why not visit Hamtramck News. Great snippets of local history from the Paradise Valley and Black Bottom districts can be found with
Detroit News
.