Individuals can make a difference, and Billy Young was one of those individuals. Not only did he produce some fine southern soul records, he served his community in Macon Georgia selflessly, donating his musical talents to causes and devoting his time to work with children in need.
Billy Young began his musical career in Macon, playing the venues of Broadway such as the Two Spot, and got his first chance to record in 1961 with
Glendora b/w Are You For Me.
Billy came to the notice of local legends Otis Redding and Phil Walden, who both recognised a kindred musical spirit. Billy's voice had a similar gutsy and countrified delivery, although his voice was not quite as raw or his delivery quite as strident as Otis'. Otis took Billy down to Muscle Shoals for a session at
Fame Studios
recording for Otis's
Jotis
label. The single was
Do the Sloopy b/w Same Thing All Over (Jotis 469)
, and was distributed by
Atlantic.
Billy was invited to
Chess
Records
to record a single for them in 1966,
Have Pity On Me b/w You Left the Water Running (Chess 1961).
Otis Redding took Billy to record next at the
Mercury
label in 1966 and '67.
Nothing's Too Much (Nothing's Too Good) b/w Too Much
(
Mercury 72693
) and
A Year, A Month, A Day b/w Let Them Talk
(Mercury 72669) were both produced and arranged by Otis Redding, who was a conscientous mentor.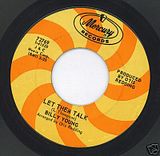 None of these singles took off nationally, but Billy continued to work through his own
Joyja
label(Georgia Soul!
explained that this is a play on the pronunciation of Georgia out in the country
), cutting songs such as
Surviving With A Hangover
, and the
Grotto
label in Macon, on which he recorded songs such as
How Much Longer (Can You Hold Out
) under the moniker Billy "Country Boy" Young. It was in the early 1970s that Billy began to see how he could actively contribute to the needs of his community.
Billy released a song called "
Sickle Cell Anaemia
" recorded purely to raise awareness among parents to have their children's blood checked, and vaccinations handled early.
In the 1980s, Billy was involved in a local chapter of the
Rev. Jesse Jackson's Rainbow Coalition
. The Rainbow Coalition commissioned Billy Young to cut a single for the vanity
Rane-Bow
label called
Jesse Jackson (For President)
(
Rane-Bow R-001
) in 1984, but neither Jesse or the single had the success they had hoped for.
Billy Young also became a well-known figure at the
Rosa Jackson Community Ce
nter working with disadvantaged children. According to the director of the center,
"The children at the center rushed to meet and hug him when he came to the center to provide active recreational outlets for them. The center staff was also overjoyed to see Mr Young on his regular visits to help provide assistance for these children. To many kids at the center he was the father they had always wished for but never had. He was instrumental in keeping them on the right path."
Billy also enjoyed writing poetry in later years, his most popular poem being one about Martin Luther King Jr, while for the children he read to regularly at the center, their favourite was titled "The Apple".
Billy Young died on 18th August 1999, but he was far from forgotten by the people of Macon. Since then,
The Billy Young Memorial Tribute
has been held annually at the Rosa Jackson Community Center on 1211 Maynard St, in Macon, Georgia. 31217. Over the years since this celebration started it has been attended by many city officials including members of the Macon City Council and the Mayor of Macon. The Annual Billy Young Tribute is sponsored by
Reverend Frank Ray
of
Brothers Keeper Inc
. This organization provides meals for the children who attend the Rosa Jackson Center on a daily basis. Reverend Ray also sponsors other community activities for children and young adults in and around the City of Macon, Georgia. The Rosa Jackson Center Staff co-sponsors this event every year. In 2002, the event was well attended by over 150 people.
Today's track is from Billy's Chess single, written by Dann Penn and Rick Hall,
You Left All The Water Running
, a reminder that sometimes, when you've got a good thing going with someone like Billy Young, you oughta stick around and appreciate things.
Billy Young - You Left All The Water Running (Chess 1961) 1966London Lee
at
No1 Songs In Heaven
was recently tracking down the many versions of this song, which has been sung by
James & Bobby Purify
,
Wilson Pickett
,
Otis Redding
,
Maurice & Mac
,
Geno Washington
, bluesman
W.C. Clark
, in the 90s by
Dan Penn
himself, numerous country singers, even
Huey Lewis
...
Invaluable information for this post was found from the Georgia Soul! Blog, and from the Billy Young Memorial website. Today's song is currently unavailable on CD, but Billy Young appears on several compilations such as Dave Godin's Deep Soul Treasures Vol. 1, and Lost Deep Soul Treasures Vol. 1.