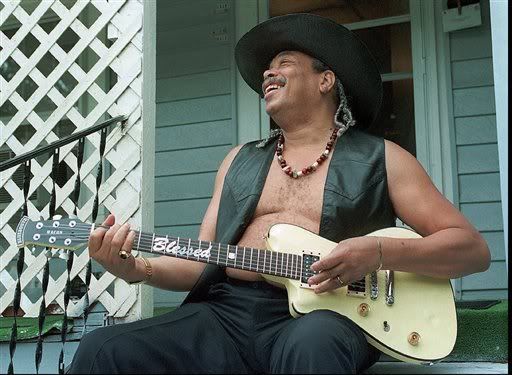 After a short weekend trip to France, I came back to read some sad news for soul fans. Agent 45 at
Georgia Soul! Blog
reports that
Johnny Jenkins
, leader of the
Pinetoppers
and recording artist at
Capricorn Records
, died on Sunday June 25th 2006, aged 67. I had been reading about him and telling my girlfriend about him on the plane home...
Johnny Jenkins
was born in Macon, Georgia in 1939. At age 9, he made his first guitar out of a cigar box and rubber bands; as a left-hander, he learned to play it upside down and entertained people at a local gas station.
Phil Walden signed Jenkins in 1958, while he was a high school president looking for a way to book r&b shows for fraternities. Johnny began to tour around the South, playing fraternity parties and various venues, first with Pat T Cake & The Mighty Panthers, and then with his own band, the Pinetoppers.


Paul Hornsby of the Capricorn Rhythm Section, who played with Johnny on his key albums, recalls:

"He was legendary playing at college fraternities at the University of Alabama. I always heard about the left-handed guitar player who was doing all these acrobatics."

Phil Walden talked about Johnny in a 1996 interview with the Macon Telegraph:

"I have a great deal of sentiment attached to Johnny Jenkins. He was my first client, and it was through him that I met Otis Redding. ... I was still a teenager when I met him, and I thought my entire world rotated around Johnny Jenkins' guitar. I was convinced he could have been the greatest thing in rock 'n' roll. He had all the earmarks of stardom. He looked the part, he played the part, he acted the part. ... He made a major impression on my entire career. This was my first relationship with an African-American musician, and what made that unusual was the time of the relationship (the late '50s). I learned so much about life from Johnny Jenkins and Otis Redding during those early years. It was exhilarating, to say the least."

At the Douglass Theatre in Macon, an amateur talent show was held every week and broadcast as The Teenage Party. Otis Redding sang regularly in 1958, and won week after week. One night, Johnny went to watch. Jenkins described what happened to Peter Guralnick:

"I heard Otis at the Douglass, and the group behind him just wasn't making it. So I went up to him, and I said, 'Do you mind if I play behind you?' And he looked at me like, 'Who are you?' 'Cause he didn't know me. And I say, 'I can make you sound good.' ... And you know how the guitar can make a singer sound good by covering up his weaknesses? Well, he sounded great with me playing behind him - and he knowed it. I say, 'How much you pay me?' He say, '25 cents.' I say, 'Well, that be all right, maybe you better pay me 15 cents now, 10 cents at the gig.'"

The Pinetoppers, now with Otis singing, got a chance to record a single, Shout Bamalama, for Confederate Records, but the excitement was short-lived,a nd money became tight. Phil Walden set up Phil Walden & Associates, and booked the members of the band in various guises and combinations under assumed names to try to eke out more gigs - once they performed just as Johnny & Otis, with Otis playing the drums.

Johnny Jenkins then recorded a regional hit instrumental, Love Twist, released on Tifco, and then distributed by Atlantic thanks to record promoter Joe Galkin, who took a cut, and Phil Walden got a follow-up session booked at Stax Records. The confusion over Otis' role at the session stems from the fact that while Otis was an integral part of the band, they were there to record an instrumental follow-up to capitalise on Love Twist. But when the tunes didn't come together for the Pinetoppers, the remaining half-hour went over to trying some vocal tracks. Johnny Jenkins was there playing guitar on Hey Hey Baby and These Arms Of Mine, happily supporting his friend. Rogers Redding said that the original idea had been to promote These Arms Of Mine as a duo, Johnny & Otis.

But Johnny decided not to tour, disliking air travel, and perhaps more nervous, or more wary, about the prospect of fame than he liked to admit. He was suspicious of the Stax set-up, and like those black artists such as Gilbert Caple who played on Last Night but received no credit, believed that his contribution was being appropriated:

"They [Jim Stewart and Stax] had me in the motherfucking studio, and I played the best I knowed how... [then got Steve Cropper to study it]"

Johnny released just one 45 on Volt, Spunky bw Bashful Guitar. Johnny preferred to stick with Phil and those whom he trusted from Macon, and despite some portrayals of Johnny as a bitter man, others recall him quite differently. Joseph Johnson, curator of the Georgia Music Hall of Fame, recalls:
"I listened to an interview in which he said he never really wanted to become famous, he just wanted to play guitar. ... He was happy playing guitar, playing with a band and going home."

Paul Hornsby worked as a producer at Phil Walden's Capricorn Records when Jenkins recorded his most well-known album, Ton Ton Macoute, in 1970. He believes that Jenkins didn't try to get the fame and attention the other artists on the label such as the Allman Brothers, were receiving:

"Capricorn wanted him to be something special. They wanted him to be another Hendrix. But that just wasn't him."

Jenkins' guitar style is more familiar than you might think. Jimi Hendrix, whose aunt lived in Macon, saw Jenkins perform and fell in love with his signature acrobatic left-handed guitar style. Johnny was light-hearted about his possible influence:

"He used to see me at Sawyer Lake. The next thing you know, he's jumping around like me, but he had his own stuff."

The death of his best friend Otis Redding in 1967 had a profound impact upon Johnny. He could not bring himself to go to the funeral in Macon, unable to hold back his distress, and filled with suspicions that something more sinister might lay behind the plane crash. He feared also that Zelma and the family might be upset by his presence; and that Stax associates might not want him there, a reminder of Otis' younger, wilder days, rather than as a pop idol.

Johnny's career petered out with the fall of Capricorn Records. In 1996, Phil Walden produced Jenkins' comeback album, Blessed Blues. He performed at the first concert at the Douglass Theatre after it was renovated in 1997. Jenkins continued to perform sporadically, including a 2000 show at the Georgia Music Hall of Fame. His last two albums, Handle with Care (1999) and All in Good Time (2000), were produced by Mean Old World Records.

The singer Arthur Ponder sums up Johnny Jenkins as a character:

"I learned a lot from him... If you sang or played, you would go find Johnny. He would give you a chance."


The first track today comes from Ton Ton Macoute, and is a funky blues titled Walking On Gilded Splinters. Yes, Paul Weller once chewed this one up... Then, on his 2003 album, Johnny sings the William Bell penned tribute to his old friend Otis:

Johnny Jenkins - Walking On Gilded Splinters ('Ton Ton Macoute' 1970 Capricorn Records)

Johnny Jenkins - A Tribute To a King ('All In Good Time' 2003 Mean Old World)

Information and quotes from the Macon Telegraph, and from Sweet Soul Music by Peter Guralnick. Photos by Mark Pucci, and by the Capricorn Rhythm Section.