Remarkable people are often best know by their remarks, but on occasion they can be held hostage by them. When I mention the name of
Magnificent Montague
, it would probably be another phrase, not the one in the heading of this post, that springs to mind, and you might well associate it with the turmoil, anger and violence that erupted in Watts in August 1965. Yet the association would be a misapprehension, and the life of
Magnificent Montague
is of far greater significance for many other reasons...
Nathaniel Montague
was born in New Jersey on the 11th January 1928. Possessed of keen intellect, confidence and desire for experience, he ran off to Los Angeles several times in his youth, and in 1942, with his close friend
Tony Williams
(later of
The Platters
), joined the Merchant Marine, making numerous convoy journeys supplying the Allies during WWII. He learned to be creative, independent, organised, and was fast to pick up on the niches and opportunities that others didn't.
One particular opportunity whch Montague tried his hand to on a few shore leaves was as a radio DJ, and thus began the most well-know part of his career, first working out of stations in Houston and Galveston Bay, a little later in Louisiana, then off to Chicago, New York, San Francisco, and to his dream audience of Los Angeles. Eachtime he moved city, Montague was aiming at reaching a bigger audience and increasing his chances of making a living in a difficult commercial business. Montague was particularly adept at cultivating female listeners, using his love of poetry and writing verse. It was, as he realised, the target audience most coveted especially by advertisers of household products, and if you couldn't sell airtime to advertisers, you were out of a job.
Not that this was without its potential dangers, as a black DJ working in a still segregated nation. He was once thrown out of a toilet by police in a railway station in Washington D.C. minutes after his arrival, and on one terrifying occasion, his station manager in Houston called him from his booth to introduce him to the assembled dignitaries of the local Ku Klux Klan who complained:
"By God, you been makin' love to white ladies, boy!",
referring to the huge number of female callers to his show. Only thanks to the quick intervention of another, large-built white DJ called
J.P. Richardson
were tensions lowered, as he put his arm jovially around Montague's small shoulder and joked,
"All Negroes seem to have that touch, I try to get it myself. That's why I try to be hep!"
A successful songwriter, J.P. would later write
Chantilly Lace,
and was better known as the
Big Bopper
.
Who knows what those KKK crackers would have thought had they known that Magnificent Montague was actually courting a white woman, unseen, through his poetry on the airwaves. Soon after meeting in her home town in Louisiana, he and Rose Catalon were married, and driving north, in great peril should they be spotted together, to new pastures. They remain happily together to this day.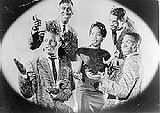 His career in the entertainment business brought Montague into contact with numerous major talented people. Montague was most closely associated with recording
Johnny Keyes
and his group
The Tams
, whom he renamed
The Magnificents
; and for producing
L.C. Cooke
, younger brother of
Sam Cooke
. Montague began arranging shows comprised of astonishing arrays of black musical talent. One show at Rockland Palace in the South Bronx in Januay 1963 saw
Ben E King, Gene Chandler, Sam & Dave, Carla & Rufus Thomas, Dionne Warwick, Jimmy Reed, John Lee Hooker, the Orioles
and the
Fascinations
, many more, plus a guy called "Otis Reeding" thrown in to raise his profile on condition that Stax Records get
Booker T & the MGs
to back all the other acts for the show! To top it off, Sam Cooke heard about the show while it was on, and dropped by to sing too!
Sam Cooke was one of the people who also helped to develop Montague's wider understanding of the status of black people in America.
Paul Robeson
was the first to awaken a sense of the wider injustices that ingenuity and talent could not overcome. He recorded a young singer named Calypso Gene, who was soon to become
Louis Farrakhan
, and Montague came to be wary of the misdirection of anger that inequality could lead to. He has an abiding dislike of the anti-semitism Farrakhan promulgates, and was drawn closer to an appreciation and adoption of Judaism, in whose struggles he saw parallells with black American experience. Yet, in distinct contrast to Farrakhan, of all the great thinkers he was lucky enough to know personally, it was
Malcolm X
whom he most admired, for his lack of fear and "tell-it-like-it-is" attitude about the frustrations of ordinary black American with the pace of change.
In August 1965, Magnificent Montague became embroiled in a political controversy of his own. He had been using a catchphrase "Burn, baby burn!" on air for a number of years to describe the excitement of particularly great records; but as the Watts Riot exploded in the streets, rioters appropriated the slogan for themselves. Officials, assuming Montague intended to incite the rioters, demanded he stop using it. For Montague, although horrified by the way his words were being misunderstood, it was a demand that missed the point. His slogan hadn't been the cause of the rioting, and simply removing it was not going to stop it. In fact, if word spread that a popular black figure was being put under political pressure, it might further agitate the situation. So, Montague hatched a plan to embarrass the mayor Sam Yorty, live on air, then came up with a new slogan, "Have Mercy!", to suggest a healing vibe to his listeners.
The way in which Montague had been pressured led eventually to his decision to not buy but actually build from scratch his own radio station, KPLM in Palm Springs. Having been barred because of race from the established radio union, and having to get by on his own initiative, Montague also got involved in founding the National Association of Radio Announcers, to provide security for other black people in the industry. It was part of Montague's constantly increasing awareness of the signficance of black Americans in the history of the United States, and awareness of the way that their role was often overlooked and erased from the public record. He had for many years been avidly collecting different kinds of memorabilia concerning black history, on a huge scale, and in the 1980s he attempted to found a Museum of Black History to display his vast collection. Sadly, this vision has been thwarted by lack of funding from official sources, who instead wanted it donated for nothing to an institute, and lack of interest from the Black American celebrities Montague thought would willingly participate. The collection, described by one curator as "greater than any public collection of its type" and as a "reference library" of black history, is currently up for auction for a private collector, and may be lost for the public forever.

Maybe, if Montague was still on the radio, willing us to listen hard, more would heed his call. Such a shame that noone will champion the preservation of utterly unique artifacts of a history untold. Let's go back to New York in 1963. Montague wrote a new theme song to begin his programme, and persuaded some of the great female soul singers to participate. It was also released as a 45, and sold over 200,000 copies. It builds up to a crescendo of feeling, and burns with Montague's plea to: "Put your hand on the radio, touch my heart!"

Aretha Franklin, Cissy Houston, Dee Dee Warwick - Montague the Magnificent Theme (1963)
Information for this post taken from Magnificent Montague's autobiography, "Burn, Baby! Burn!" , published by the University of Illinois Press 2003. The theme song and other classic recordings can be found on Magnificent Montague's own website.