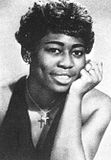 I read today in the obituary column of the Guardian newspaper that Barbara George, the New Orleans soul singer, died on the 10th August 2006. Born Barbara Smith in New Orleans on 16th August 1942, she married young but very unhappily. To exorcise some of the emotions she felt trapped in her violent relationship, she wrote the song I Know (You Don't Love Me No More), basing the melody on the gospel song Just a Closer Walk With Thee. She signed to the black co-operative label All-For-One, run by pianist Jessie Hill, who recognised her song-writing ability. The song reached No. 1 on the R&B charts, and No. 3 on the US Pop charts.

After a second single You Talk About Love, and an album of her songs titled I Know, both failed to break out on the national r&b chart, All-For-One let George move to Sue Records. Her later records did not duplicate the chart success of her first hit, and Barbara George increasingly turned to alcohol to cope with the life of a singer constantly touring on the soul music circuit. After making a recovery in the 1980s, she returned to gospel and to Chauvin, Louisiana.

I know we'll remember her.

Dan Phillips at Home of The Groove wrote a detailed obituary and biographical piece on Barbara George on 20th August, which has been used by the local press in Louisiana and by obituarists in the press as the basis of their reports. I recommend visiting to learn the full story of this remarkable woman.
POSTSCRIPT: Could the horn interlude in Otis Redding's version of Down In The Valley have been influenced by the horn section on Barbara George's I Know (You Don't Love Me No More)?