It's time to relax on our occasional tour of the Detroit described by Yusef Lateef in his classic Atlantic jazz album of 1969. "Jazz?", someone says, "but I'm only into obscure northern soul and talcum powder..." And I say, "But this man lived right there in it, and saw and listened, and then described with music what you seek to find. He knows the background to those three-minute gems of intensity. Come on, only 9 people have got on the bus! You've still got time to visit Woodward Avenue and the Paradise Theatre where Billie Holliday and Duke Ellington played; Bishop School where Yusef learned; and pick up some groceries at the Eastern Market!
What is it like? Tell me when you get there."
Saeeda Lateef
reminisces in the liner notes...
"Hot nights. Belle Isle, pass the Big Stove, lemonade. Fried chicken an' tato salad, scorched hot dogs, get full, laugh loud.Swim, dig for nightcrawlers, fish, throw the mud-puppies back in the water. Tired? Cool it 'til the Lucky Old Sun rises gleaming from the other side..."
Today, we go to
Belle Isle
.
Cross the
MacArthur Bridge
.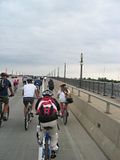 You can see the city of
Windsor
on the Canadian side and downtown Detroit on the U.S. side, linked by the
Ambassador Bridge
.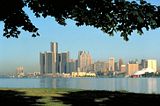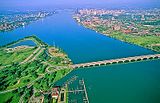 Belle Isle was popular for boating on its canals.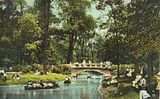 You can visit the
Scott Fountain
,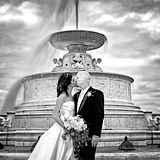 the
Whitcomb Conservatory
,
and the
William Livingston Memorial Lighthouse.
The
Belle Isle Aquarium
closed for the last time in May 2005, after a continuous 101 years.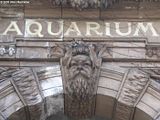 At one end of the island, the water's edge is filled with concrete breakwater blocks. These broken up slabs of concrete once belonged to a
Nike missile base
during the Cold War.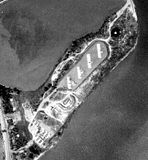 Belle Isle is also the site of the
Detroit Grand Prix
motor race, and has its own zoo.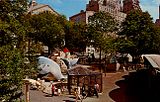 Back in
1967
, Yusef Lateef could have gone to see the
MC5
at the
Detroit Love-In
on Belle Isle...
... but I suspect he would have been more interested in this amazing 3D llama at the childrens' zoo.
Yusef Lateef 's Detroit (Atlantic SD1525) 1969