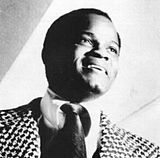 Yusef Hazziez
, born
Joseph Arrington Jr
, better known as
Joe Tex
, was a pivotal figure in the development of southern soul music. His contribution has often been underrated, appropriated or simply ignored, as Joe often claimed in his frequent on-stage and off-stage battles with
James Brown
for the title of
Soul Brother No. 1
. Joe played a vital part in linking country music with gospel and blues in the new 'soul' form of r&b (in a more unified manner than
Ray Charles'
renditions of country tunes). Later on, Joe would influence funk and the vocal cadences of rap. When
Peter Guralnick
offered up the monicker 'clown prince of soul', attempting to highlight Joe's good humour and positive approach to the music, he inadvertently skewed the way in which Joe Tex's music would be judged for many years.
In this post, I'll bring together some of the events of Joe's early life and career, to show how country music and rhythm & blues influences developed in his music…
The son of Joseph Arrington, Sr., and Cherie Jackson, Joe was born at Rogers, Texas, on August 8, 1935. He moved to Baytown at age five with his mother after her divorce from his father and attended school there. While Joe attended the segregated G W Carver School, his neighbourhood contained both black people and working-class whites. To drum up custom for his shoeshining and paper round, Joe performed song and dance routines for neighbours, performing rhythm & blues and country songs, while trialing his own compositions. He also sang in the school choir and the McGowen Temple church choir. In the evenings, Joe worked at
KREL Radio
in Baytown, as
Jivin' Joe
, alongside country-orientated disc-jockeys such as
Cowboy Dickie Rosenfeld
. Joe was playing the songs of black acts such as
the Spiders
,
Lloyd Pri
ce and
Johnny Ace
alongside songs by
Hank Williams
… Joe had imbibed a variety of musical influences from gospel and blues, doo-wop, rock n'roll and country.
During his junior year of high school, Joe entered a talent search at a Houston nightclub. He took first prize over such performers as
Johnny Nash
,
Hubert Laws
, and Ben E. King-imitator
Acquilla Cartwright
. He performed a skit called "It's In the Book" and won $300 and a week's stay at the Hotel Teresa in Harlem. There, Arrington performed at the
Apollo Theater
. During a four-week period he won the Amateur Night competition four times
(allegedly being told not to come back again...)

After graduating from high school in 1955, he returned to New York City to pursue a music career. While working odd jobs, including caretaking at a Jewish cemetery, he met talent scout
Arthur Prysock
, who paved the way for him to meet record-company executive
Henry Glover
and get his first record contract with
King Records
in 1955.
At King Records, Joe felt that he was in the shadow of their bigger artists
Hank Ballard
,
Little Willie John
, and especially
James Brown
. Joe claimed that he wrote Willie John's hit
Fever
, and that, struggling with debts, he had sold the tune to
Otis Blackwell
, something that Blackwell denies. Joe recorded a number of humourous songs such as
Davey You Upset My Home
and
Pneumonia
, more out of a need to prove he could make money as a songwriter for the company. He moved to
Ace Records
in New Orleans in 1957, But again, as an artist he was encouraged to focus on comedy songs, mimicking
Little Richard
and
Fats Domino
. Joe was looking for a new start, to develop his own style. His songwriting here was later recognized when
James Brown
covered his tune
Baby, You're Right
in 1961 and scored a No. 2 r&b hit.


Buddy Killen, a former bass player at the Grand Ole Opry, saw Joe Tex in Nashville and was amazed by his performance skills. He signed Joe up to his new Dial Records in 1961, and in a way, due to his inexperience with rhythm and blues, he allowed Joe the space to develop his music. Killen said in an interview with Barney Hoskyns:

"Out of just trying to expand my horizons a little, I started signing black writers and artists…I didn't know anything about r&b…but it slowly rubbed off on me…"

At first, Joe focused on gospel-influenced ballads, with songs such as Meet Me In Church. They didn't make much impact, and Killen went with Joe down to the little-used Fame Studio in Muscle Shoals, Killen's hometown, in 1964. Killen recalls the night of Nov 6th 1964:

"We'd worked seven hours on a song called 'Fresh Out Of Tears' … I suggested to Joe that we try a couple of lines from this new song he'd written, using straight country chords …"

The recording did not go smoothly, Joe complaining at one point "Man, I don't know nothing about harmony!", and Buddy having to overdub and splice the best takes together, but the finished record, Hold What You've Got, was a new form of country-tinged southern soul, more raw and less church-based than Solomon Burke's Just Out Of Reach. It reached No. 5 on the pop charts, the first soul record ever to do so. According to Joe in an interview with Gerri Hershey in 1982:

"You wanna know my secret for getting a cross-over hit? I used the same formula every time – half soul musicians, half country."
Of the Fame musicians that day, drummer Roger Hawkins had toured with Cousin Wilbur, Grand Ole Opry comedian; Albert 'Junior' Lowe on bass was a country player;Kelso Hurston returned from Nashville to play guitar on the track.

Within the song were influences that in particular would guarantee its success amongst the record-buying public in Texas and Louisiana. Catherine Yronwode has noticed the similarities of Joe's song to the "swamp pop" ballads of Louisiana music, as performed by Cookie & The Cupcakes and others. The piano style of Ronnie Wilkins was perhaps influenced by this. Indeed, some sources claim that Joe developed much of the 'rap' in the heart of song while performing Etta James' All I Could Do Was Cry in Baton Rouge, and performing in that city may have given him some musical ideas.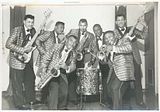 Joe's phrasing was also extraordinary, combining the earnestness of southern preaching with playfulness, and incorporating a talking rhythm that has been likened to traditional African story-telling techniques and black toasting traditions. The history of rap and hip-hop would owe a lot to Joe Tex… but that's another story!
Joe Tex - Hold What You've Got (Dial 45-4001) 1964Information in this post was gathered from books and liner notes by Barney Hoskyns, Catherine Yronwode, Johnny Williams, and the Handbook of Texas. I found out more about how similar Joe Tex's lyrical style is to black toasting at Louisiana Folk Life.