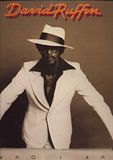 As the first verifiable 'person I didn't know yet' to visit my page, Inge got the chance for a special request! She asked for the song Wild Honey by David Ruffin. It's a good example of how a great singer can make a song stand out and be counted, while others suffocate in the disco beat. It's got real raunch to it, and David is roaring like the Mississippi southern soul man he was. And it put me in the mood to play Kung Fu Fighting... Enjoy!

David Ruffin - Wild Honey ('Who I Am' LP Motown M6-849S1) 1975

The track is taken from the album Who I Am, released by Motown in 1975. The album contained Ruffin's hit single Walk Away From Love, and was an affirmation of his musical collaboration with Johnny Bristol and Van McCoy. His next album in 1976, Everything's Coming Up Love, was his most succesful in the UK. David was once again reaching the levels he has know up until the late 60s. But his career would never again fly so high, despite many efforts at relaunching it, and drug addiction to crack cocaine took its toll in 1991.

There are many sites devoted to David Ruffin, his life and his career - for example, this concise, clear one at Soulwalking, and this one at SoulTracks. Between them, the Temptations have created an astounding legacy of music for us to enjoy. Along with the music, however, exists the reality that created it. For example, this line from a biography sums it up succinctly:

"Motown, however, felt that some of his behaviour left a little to be desired and he lost the outright lead singer status by 1968."

The euphemism indicates a well known aspect of David's personality. We are not just talking about a few musical differences, although they were ripping at the heart of the group for years as David and Eddie Kendricks (long jealous of the way David had been elevated above him) jockeyed for top spot. Drugs were making his behaviour and work unpredictable. His domestic abuse towards Tammi Terrell was unconscionable, and hints at the troubled person fame had made him. However, rumours suggesting his actions led to her death are medically unsound, and refuted by those closest to Tammi, including her own sister Ludie Montgomery, who notes that Tammi herself had made her peace with David some time before her untimely death. David's elder brother Jimmy Ruffin has on occasion made unhelpful comments such as suggesting a bit of physical chastisement, even scaring them with a hammer, is good for women. This reflected badly on David's reputation. I hope that in in his later relationships, and with his long-term partner who survived him, David learned more about himself than his brother.

It's a salutory reminder of the real people and real lives, events and pain that fuels the music, may it sound happy or sad, and without considering all those forces driving it, we will do it and the talents that make it an injustice...


Visit Funky 16 Corners new blogsite to hear a great track by Tammi Terrell.

POSTSCRIPT: Inge reminded me of the differing ways in which David Ruffin has been portrayed over the years, and of the rumour mill that surrounded him. I have added a few extra pertinent details in the comments section below, that should have been considered. Also read Susan Whitall's book For the Record: Women of Motown (1998), and the biography by Tammi's own sister Ludie Montgomery, titled My Sister Tommie (2005), which both go into great detail to exonerate David of the most lurid allegation made against him, while not ignoring his problems.
In addition, an aquaintance of David has posted an interesting comment below, in which she describes him as being gentle and caring towards her, and posts some disturbing evidence concerning the week of David's death, missing money and belongings, and suggestions that someone may have orchestrated his death.