This is the second part of the interview with
Johnny Williams
, the r&b musician from Texas. In
Part One
, Johnny described growing up next door to
Joe Tex
, and his introduction to the music scene playing guitar for a stint in Joe's band. In this section, we find out more about the important blues scene of East Austin, and his friendship with blues guitarist
Henry "Blues Boy" Hubbard
.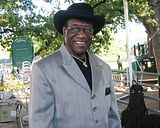 Johnny went to study at the University of Texas in
Austin
in the early 1960s, and soon became intrigued by the blues music scene of the East Side. How did Johnny's family take his decision to become a musician?
"They didn't like it until I had a hit record and started getting popular. Then they were all for it. My father wanted me to be a lawyer."
It was on visits to the East Side clubs that Johnny would meet his other musical mentor,
H.L. Hubbard
.
Henry "Blues Boy" Hubbard
had been playing through the 1950s with his house band
The Jets
: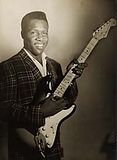 "The Jets were the house band at Charlie's Playhouse there in Austin, Texas where everybody went to dance. It was practically the only club in town that had good live blues. At that time in my eyes they were wonderful. However, I was a novice when I met H. L. I don't know how I would judge them today now that I've got about 40 years experience under my belt but at the time I thought they hung the moon, I just about worshipped H. L.

He introduced me to jazz and the Hammond B3, which, along with the piano, is still my favorite instrument. I'd wait until he got off around midnight and go eat barbecue and then listen to music, or he'd teach me guitar until the sun came up."

H.L. and Johnny are still great friends, and talk on the phone or visit on a regular basis.


Another young blues fan of the time was Allen "Sugar Bear" Black. Similarly impressed by his experiences, he still works at Antones House of Blues in the district. Interviewed by the Austin Chronicle, he recalled:

"I was a youngster in 1965, going to Charlie's Playhouse. I saw bands like Al 'TNT' Braggs, Tyrone Davis, and Albert Collins, but mostly it was Blues Boy Hubbard and his Jets on the weekends. It was basically a Blue Monday club for blacks, but on Friday and Saturday nights, it was 95% white -- kids from colleges and the University of Texas. It was real unusual to have that. They didn't fear coming to the Eastside; people didn't get their cars vandalized, stuff like that. More like it is now, with blacks and whites in clubs together."

The Austin Chronicle also interviewed Henry Hubbard himself. He thinks that there were some economic benefits to this growing scene:

"Charlie's brought the white kids from the west side and the runoff enabled the other clubs to have a heck of a business. Like Sam's Showcase on 12th Street and the IL Club across the corner from Charlie's Playhouse. And when Charlie's was full, the kids just said, 'We'll go to the IL Club,' because he had a band, too. They just tore that club down a year or two ago."

Other clubs in Eastside Austin during the 60s were the Derby, Good Daddy's, the Victory Grill, and Ernie's Chicken Shack, a popular after-hours bar that would host blues music into the early hours. Henry Hubbard would be influential to numerous other blues artists who joined his band, including Big Pete Pearson, W.C. Clark, Matthew Robinson and trumpeter Donald 'Duck' Jennings.

Sadly, from the mid-seventies,the customers who had sustained the Eastside blues performers were looking for new sounds and new entertainments, elsewhere in the city. Venues closed down en masse, or transformed to try to meet new tastes. H.L. Hubbard described the situation for the r&b artists:

"The club owners kept coming and going. Get a band to a club for a year, someone else buys the club, maybe he don't want a band."

In recent years, several local initiatives have worked hard to collect, preserve, and pass on the heritage of the East Austin blues scene, while the area around 11th Street is providing more and more venues for blues music. And Henry Blues Boy Hubbard is still going strong as a part of that scene. Johnny Williams will be pleased to hear that:

"Musically speaking, I give him credit for what I am today. He introduced me to jazz and jazz artists that I would probably not have found on my own. For that I'm forever thankful to him. For my definition of soul he is a very soulful person and I think a lot of that rubbed off on me."

Johnny thanks Hubbard again in the dedication for his new album "Johnny Williams Volume 1":

"Thank you for your patience, your friendship, and all those lessons in the wee hours of the morning after you had already performed all night at Charlie's, not to mention the great BBQ at 2:00 in the morning. The time we spend together is profoundly enjoyable, and I hope there will be many more opportunities in the years to come."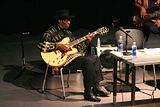 Watch a video clip of Henry Blues Boy Hubbard performing "Everyday I Have The Blues" with the Texas Eastside Kings here
If you live in Austin, see them play live today, 19th June, at the Central Market at 6pm, admission free!
You can buy their new CD at Dialtone Records.
Information about Austin blues is being archived at three locations: at the KLRU website as part of their links on the PBS TV series "The Blues", at the Blues Society of Austin, and at the Blues Family Tree Project website.
Many thanks to Johnny Williams for his recollections. Other quotes taken from interviews conducted by Margaret Moser. For the full story of the East Side Blues scene, read the whole article at the
Austin Chronicle
.