This is the third installment of the interview with Johnny Williams, a musician with a long career from playing guitar with
Joe Tex
, to learning his chops with
Henry "Blue Boy" Hubbard
, to leading his own bands and performing for over 40 years. Click on the links above to read the other installments...
Back to the early 1970s, and Johnny Williams, having studied at the feet of bluesman H L Hubbard, initially considered a military career. After finishing his stint with the Air Force, Johnny returned to Baytown. One night a friend took him to the most popular club in Houston,
Dome Shadows
, and had the bandleader call Williams up to sing a few songs. Neither knew it happened to be the last night for the featured vocalist. The band offered him the job. Johnny didn't know the band,
The Jokers
, also had a recording contract with
Pic 1 Records
. At 23, recording as
Johnny Williams & The Jokers
, he recorded
Long Black Veil
, a song first sung by
Lefty Frizzle
, and made popular by Johnny Cash, as a flipside to the song
Dearest Darling
. They also recorded some other tracks such as
Won't You Forgive
. The all-night DJ at
KILT
flipped it over. It became a runaway local No.1 hit.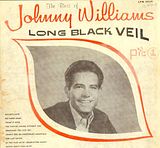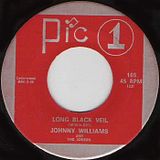 Johnny recorded his most recent album in late 2004, released in 2005, titled
Volume One
. It gave Johnny the chance to select some of the best musicians in Houston, Texas, and a chance for a musical reunion with his old friend
Mickey Gilley
, bandleader, singer and club owner during the 1970s.
"All entertainers, I'm sure, will tell you there was a time during their career when they felt like giving up ... twice in my career when I faced that crossroad Mickey Gilley gave me an opportunity ... to keep pursuing my dream..."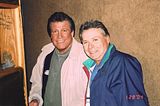 Leaving the Dome Shadows band, Williams went to work with
Mickey Gilley
at the
Nesadel
club in Pasadena, Texas. Gilley would sing the first 30 minutes of a set with his band. Mickey, incidentally, once recorded with producer
Lelan Rogers
(brother of Kenny Rogers), who also helped produce
Esther Phillips'
country soul classic
Release Me
(a No.1 r&b hit). As featured singer Williams would follow with 15 minutes, backed up by Gilley. When Williams left the Nesadel,
Johnny Lee,
a future country star, took his place.
"If I had stayed with Gilley I might have been in Urban Cowboy [the film, starring John Travolta, which showcased country music in a similar way to how Saturday Night Fever did for disco, and filmed at Gilley's club] and recorded a song for the album. Johnny Lee has never thanked me for giving up my job at the Nesadel! ... That old Nesadel band was one of the best bands I ever worked with and performing at the Nesadel and at Gilley's was some of the most fun I've ever had..."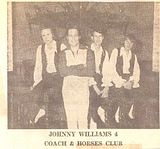 Johnny formed the The Johnny Williams Four, later the Johnny Williams Band, playing in clubs in Houston and across the region. It was one of the first bands in town doing dance music with a horn section and a "mellotron" which sounded like real strings. Johnny explained to me the reason behind this unusual range of instruments:

"I wasn't doing any country when I had that band. When doing songs like Frankenstein by Edgar Winter, psychedelic instruments (mini moog) came in real handy. And when I did ballads that required strings the melletron was the only instrument at that time that sounded like strings. With horns, a moog synthesizer and a melletron there really wasn't anything we couldn't do."

Johnny's band were capable of playing across every style of music, from r&b, country, blues, pop, rock, and rock n'roll. Playing as a house band at a club for long regular stints had great advantages and for Johnny, much more fun, than touring:

"If you're not the lead act, I don't really see any advantages, maybe getting an education by travelling to so many different places. When I was travelling with Mickey Gilley, long after I had a hit record I couldn't stand being on the road. Not much fun!"

Johnny recorded for Epic Records, working with the songwriter Mickey Newbury and Johnny Cash's former keyboard player Larry Butler as producer. He nearly secured another crossover hit with the song He'll Break Your Heart.

The advent of disco and the rise of the DJ greatly changed the club scene, and bands like Johnny's were less in demand, and found it harder to find places to play. Johnny stopped touring and performed at Gilley's Club for four years, which by now was a mecca for country fans from all over Texas, and received airplay on over 500 stations thanks to the weekly "Live From Gilley's" show. In 1989, Johnny decided to retire from music.
Ironically, the last decade has seen a revival of interest in authentic local music scenes and real musicians, once considered buried under MTV. After 12 years away from music, Johnny took up his guitar and plugged in the Hammond B3 for another recording session. His new album brings all of his experience together, and alot of influences. Johnny wanted to explain the unique musical circumstances his generation of musicans have encountered:

"Let me say that I think that I was born in a very special and unique era of time. I guess that would be a good way to put it. I like to preface everything I say with the words "in my opinion," so let me start out by saying that in my opinion the way music and my generation came together will never happen again. Let me explain. Most of the music that we hear today was not handed down to my generation from another generation. I live through the birth of every genre of most of the music we hear today. I was there during the birth so to speak. Consequently my taste in music was nurtured by all genres of music, from one end of the spectrum to the other which included everything from big bands to heavy metal. I've been influenced by all kinds of music and all kinds of artist."

What were your earliest musical memories?

"I started really getting into music when I was about five or six years old. At that time I listened to whatever was popular. My first memories were listening to Glenn Miller, Hank Williams Sr, Patti Page, and Tennessee Ernie Ford. Then from the age of about twelve to fourteen I started listening to blues or more appropriately Bbop, i. e., The Drifters, Lloyd Price etc. Then Elvis and Jerry Lee came into my life when I was about 16. From there you have to factor in everything that's happened since then to the present. I've listened to it all. Growing up I was exposed to so many different kinds of music it would be impossible to zero in on any one kind. Today I'm almost totally and exclusively a jazz listener. That's just about all I listen to, not the New Orleans jazz but true jazz, Oscar Peterson, Charlie Bird, and all the new jazz artists that have come along. I'm not much on fusion but other than that it's mostly jazz."
Who are your favourite Hammond organ players?

"There are so many. Jimmy Smith, Jimmy McGriff, Brother Jack McDuff, Joey DeFrancesco, Tony Monaco just to mention a few."

White and black musicians, in all different parts of the South, seem to find a lot of common ground between country and rnb. Is this something you also find? Do you have any thoughts on why this occurs?

"I think it comes together because of the driving rhythm. [Like r&b music]... Country music today has a good hard driving beat."

Where do you think southern American music will go in the future?

"I don't really know but I worry because black artists aren't picking up the blues. I worry because nobody is learning to play the B3 and nobody seems to be interested in learning how to play the blues. I really don't care for popular chart music today, rap, hip-hop etc. However, as long as people will accept crap it will be financially profitable to dispense it."

Many bands, especially in Britain, have tried to pick up the musical styles of the South. There are even some country-noir influenced bands in Brighton. Can it be truly taken up elsewhere in the world, where it wasn't 'born'?

"... my own recordings reflect my eclectic taste ... I will probably cover the gamut of all genres on my CDs, country ballads, pop, blues, rock n' roll, soul... I don't think good music and especially music that makes people want to dance has any language or cultural barriers."

Many thanks to Johnny Williams for all of his recollections. You can buy Johnny Williams' latest album by visiting his website store here. You can listen to clips from the Urban Cowboy soundtrack at this page at Amazon.com. Mickey Gilley sings the Ben E. King classic Stand By Me, and Here Comes The Hurt Again. For an interesting recollection of what Gilley's country music club was like in the 1970s and 1980s when Johnny was a staple act, go to Mickey Gilley's website.