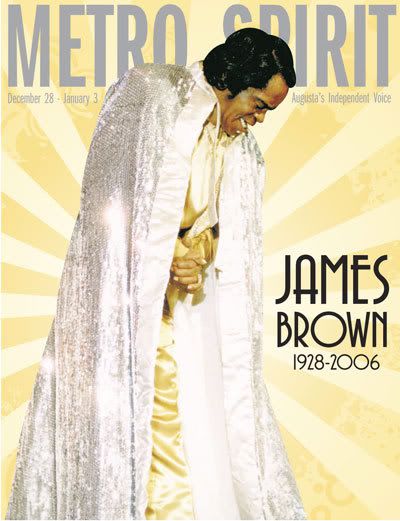 James Brown 3rd May 1933 - 25th Dec 2006

I have been away on holiday for a week in France, and have had no idea what a loss we have felt this week, until a friend mentioned it in passing when I arrived home this evening.
On Christmas Eve, I left
Solomon Burke
wearing the crown of the King Of Rock N' Soul and a message of goodwill. At a famous concert back in 1965, Solomon was booked and handsomely paid $10,000 to perform, but was kept waiting for hours to get on stage until he was brought on just to be announced as 'deposed' by the headlining performer. I am sure that Mr Burke would again, for this moment, profer his crown, kingly robes and title to his friendly 'rival' of that night, Mr
James Brown
.
I chose the title for today's memorial post from an article that I read from Metro Beat, the local newspaper for James Brown's hometown of
Augusta, Georgia
. Faced with several recent scandals and blows that have knocked the reputation and the economy of the city, the council looked for inspiration from a local boy, and came up with an inspirational slogan and campaign, called
We Feel Good
:
Charles Walker Jr, a prominent local figure in politics made the proposal last year:
"We Feel Good' says something about us. And I think the more we say it, the more we feel it."
Pro Tem Mayor Marion Williams said:
"When you say, 'I Feel Good,' it just sounds right... I understand 'We Feel Good' includes a more collective group and we ought to be inclusive, so I'm all for it..."
Interim Mayor Willie Mays said of the suggestion:
"Let me say, that as a resident and business owner who just happens to live on James Brown Boulevard, I don't have a vote anymore on this commission, but the gentlemen you're talking about is a longtime personal and family friend. I had seven engagements that I had to speak at this week, and at least four of them, James Brown's name was invoked and I didn't see anyone with a frown on their face when we talked about him."
James Brown came to represent a lot of things to many people. Musical pioneer, inventor of funk, the original rapper, icon of self-belief, black capitalist; he was determined in all things; rarely suffered fools; expected the same standards of professionalism from others that he exhibited; believed in competition to bring out the best in people; and made his own chances, having started with next to nothing to call his own. These were some of the things we admired about Mr James Brown, and emulating at least some of those qualities one would hope would bring some measure of the success and acheivement of
Soul Brother Number One
.