Many of the Nashville r&b clubs featured house acts who might play on a weekly basis for months or years on end, when not performing out of town. Indeed there's is a street-level story of fame and musical impact rarely reflected in the charts and record sales to which music history is often reduced.
Earl Gaines
held forth at Nashville's
Sugar Hill
;
Johnny Jones and the Imperial 7
, or a jobbing
Jimmy Hendrix
with the
King Kasuals
, would be playing at the very popular
Club Del Morocco
(once frequented by Jackie Robinson and Joe Louis when they were in town.); while at
Club Stealaway
,
Frank Howard and the Commanders
, vocal trio, sang Wednesday nights from 9 until 1 in the morning.
"I never saw any of the money we made off of our records, but I made a lot of money from personal appearances. Pee Wee Johnson ran a club called the House On the Hill. We would play at the Seal-A-Way or the New Era or with Hendrix at the Del Morocco, then we would leave during the intermission and go to Pee Wee's and play there..."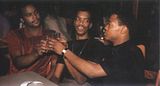 Charlie Fite, Frank Howard, Herschel Carter at Club Stealaway, in 1964, celebrating their release of their first single, Just Like Him.
Originally known as
The Marquees
, and originally including Frank's older brother
Bruce
, they had been singing around Nashville since 1957, but Frank, Charlie and Hershel grouped up in 1961. It was DJ and manager '
Hoss' Allen
who renamed them
The Commanders
in early 1964, ready to promote their first 45, recorded at
Fame Studios
.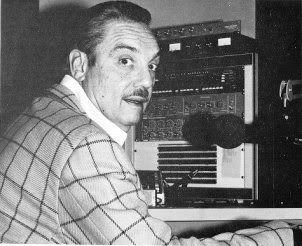 Bill "Hoss" Allen, WLAC DJ
Frank Howard had a great friendship with legendary WLAC DJ and promoter
Bill ''Hoss'' Allen
, who was to hire
The Commanders
to be regulars alongside the band of
Clarence Gatemouth Brown
and
Johnny Jones
on his r&b TV show
The!!!!Beat
, made in Texas but featuring Nashville musicians. However he was less happy when Allen decided to change
The Commanders
into
Frank Howard & The Commanders
...
'''Horse [Hoss] was like my brother....[but] I was very upset with my name out front. . . . But Horse said 'I want you to be out there by yourself.' Horse wanted me to be a Johnny Mathis-type singer. . . . I guess it all worked out.''
Hoss had connections and the means to promote acts like The Commanders onto a bigger stage. R&B star
Earl Gaines
had formed a partnership with 'Hoss' Allen in 1965. They recorded an LP,
Best Of Luck To You
in late 1965 to early 1966. The album featured Johnny Jones & The Imperial Seven and Frank Howard & The Commanders, and was released by
HBR Records
in 1966. While Earl Gaines gained the most publicity from the album, with his name prominent and scoring a No.28 r&b hit, it convinced Hoss and his backers to hire the Commanders and the Imperial Seven for the musical backbone of Allen's syndicated television show
The !!! Beat
.
The cream of the Nashville r&b scene continued to flourish for a few years thanks to
Night Train
and
The!!!!Beat
, but the death of a blues club scene made it harder in the city itself. In 1967, Frank recorded a solo record,
Judy
, which was later covered by Al Green. After that, Frank Howard left music to pursue careers as a banker (eventually rising to senior vice president), repo man and car dealership owner.
Frank Howard helped the
Country Music Hall of Fame and Museum
researchers with their work on the Night Train To Nashville exhibit, providing videotapes, records and reminiscences of the period. Such eyewitnesses and their oral history are all the more valuable in a rapidly changing society and urban environment, where Interstate 40 altered the landscape of north Nashville forever in the mid 1960s. Frank used to go to see
Joe Tex
at the
Legion Club
, which once stood next to the current NES headquarters:
''We would always go hear Joe when he was in town because he was a top-notch entertainer. . . . We were there when he did his first split. His pants split. We had to lend him a pair of pants so he could get back on the stage.''
Michael Gray
, curator at the
Country Music Hall Of Fame
:
''Museums count on people like Frank. We couldn't tell the story without someone like him stepping forward and loaning us photos and artifacts.''''I never throw anything out,''
Howard admits!
Frank Howard
is now a minister at
Patterson Memorial United Methodist Church
in Nashville's Flat Rock, and he puts his soul into the gospel music. But he still looks back with fondness on his younger self, and was persuaded to participate in a number of r&b reunion concerts for the Night Train exhibition, which, while the participants are a little older and the audience younger, have given Nashvillians a reprise of how things used to be. Watching
The Commanders
slip and slide and perform flying splits while singing
(You Make Me Wanna) Shout
on a video, Frank says:
''Man, I was about 300 pounds lighter back then! Look at that guy!''

Watch The Commanders on The!!!!Beat singing I'm So Glad:
Listen to
Frank Howard & The Commanders
sing their first record
Just Like Him
:
Frank Howard & The Commanders - Just Like Him (Hermitage 870) 1964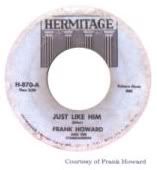 Information and quotes taken from a fascinating interview with Frank Howard in March 2004 by

Tim Ghianni

at The Tennessean website. The interview is far, far longer than these excerpts, and includes lots more personal details and insights...
Other information from the Night Train To Nashville exhibit booklet. Photographs from the personal collection of Frank Howard. Archive of The!!!!Beat provided by innercalm. Mp3 link hosted by Commotion PR, Night Train To Nashville public relations. You can buy the CD Night Train To Nashville at this link...