This post began a few days ago as a continuation of my series of Nashville linked songs. Already in this month, we have mourned the loss of Mr Buddy Killen. However, as I went back to researching yesterday, the sad news began to appear that Ms Ruth Brown has passed away also at the age of 78. Red Kelly at The B Side has produced a memorial post, to which a friend of Ms Brown, Mr Stanley Behrens, has contributed a personal message of condolence. Link to them
here
. Read an article in the Virginian-Pilot newspaper here.
Born
Ruth Weston
in Portsmouth, Virginia on January 30th 1928, she began to sing at Emanuel AME Zion Church in Olde Towne, Portsmouth. After tasting the limelight while singing (unbeknownst to her parents!) in local USO shows during the war, and even going up to New York City and winning the Harlem Apollo Amateur Night on another secret trip, she finally ran away for good to Washington D.C. aged 17, in 1945, to live the life she had dreamed about listening to the jazz singers and orchestras of the 1940s. When she began to lose her way in 1947,
Blanche Calloway
took her under her wing and began to manage her, getting her an audition with a small new label called
Atlantic Records
. After recovering from a broken leg brought about by a serious car accident in 1948, Ruth Brown finally began her first Atlantic recording session eleven months late in May 1949.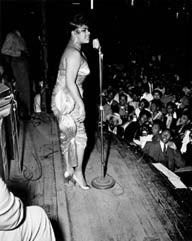 Ruth Brown at The Hippodrome Memphis 1950, photograph by Ernest Withers.So Long
reached No. 4 on the R&B chart, and began a string of hits, with her next song,
Teardrops from My Eyes
, becoming her first No.1 record in 1950, and staying at the top for 11 weeks. Next was
I'll Wait For You
in 1951, reaching No.3; in 1952 there were
5-10-15 Hours
, reaching No.1 R&B, and
Daddy, Daddy
at No.3;
Atlantic Records
came to be dubbed
"The House That Ruth Built".
I have linked to a performance by
Ruth Brown
singing
Mama, He Treats Your Daughter Mean
on television in 1953, which marked her appearance in the national Pop charts and wider recognition.
This track was in fact recorded twice by Ruth Brown, the first time in New York City in 1953. Ruth Brown wasn't impressed with the 1953 demo, feeling it was too crude, and suggested that it not be released. However,
Ahmet Ertegun
was adamant that it was a potential hit. He was proved correct when it reached No.1 on the R&B chart, and No.23 on the Pop chart. White entertainers such as
Frankie Laine
became vocal admirers, and it was Frankie who dubbed Ruth
Miss Rhythm
.
The hits continued with
Wild Wild Young Men
, and in 1954 with two more No. 1s,
Oh What a Dream
and
Mambo Baby
. In 1955 she dueted with
Clyde McPhatter
on
Love Has Joined Us Together
. She was the star of the television broadcast
Showtime At The Apollo
that same year. Ruth Brown recorded with Atlantic up to 1960, before parting ways in order to spend more time with her young family. In addition, she had fallen out of love with the company. While she was being paid advances of up to $350 for each song she recorded, and selling millions of records, the accounts of Atlantic Records always showed her
owing
the company for recording costs, touring and promotions!
Ruth Brown performing in 1960

However, she never lost the desire to sing and record, and continued to be involved in music even during this hiatus. In 1962, Ruth Brown was signed by
Shelby Singleton
to the Nashville-based
Phillips
label. He persuaded her to re-record
Mama, He Treats Your Daughter Mean
, featured on Night Train To Nashville, and this time Ruth herself was pleased with the results:
"Going down there and working with these great musicians ... there's a different feeling. Just a whole wonderful feeling... I think it's one of the best things that I have ever done."
Ruth Brown decided to return to music in the 1970s, and even branched out into TV, film, the stage, and radio; in the sitcom Hello, Larry; the film Hairspray; the Broadway show Black And Blue; and as a host on NPR radio. As well as a desire to perform, urged on by her friend the comedian
Redd Foxx
, another motivation was spurring Ruth Brown to work and to promote black musical heritage.
I first heard about
The Rhythm And Blues Foundation
when I saw a TV interview with
Sam Moore
of Sam & Dave, and I discovered that simply because you made the music, it did not necessarily mean that you were getting paid for it. In the late 1970s, Ruth Brown discovered that the same situation was affecting her, with less and less royalties monies actually arriving, and having to take on other jobs to support her family.
Ruth Brown's
greatest endeavour perhaps was her battle with
Warner
, new owners of Atlantic Records, and former owners
Ahmet Ertegun
and
Jerry Wexler
, to recover her royalties due since the start of her career, and to establish a fund to support other artists who had not profited by their work in music. After discussions with Ms Brown about the way deals were done in the early years, and paying her $20,000 in back royalties, former Atlantic owner
Ahmet Ertegun,
to his credit, agreed to personally donate $1.5 million to set up the Foundation to acheive this goal in 1987.
Ruth Brown had been on life support since Oct. 29 after suffering a heart attack and stroke. She died at a hospital in Henderson, Nevada, near Las Vegas, where she lived with family. Amongst the memories close friends and relatives shared was this one from cousin
Mae Breckenridge-Haywood
:
"We've lost another pearl...She was just a beautiful person with a very warm spirit, especially for her hometown, her school and also her family..."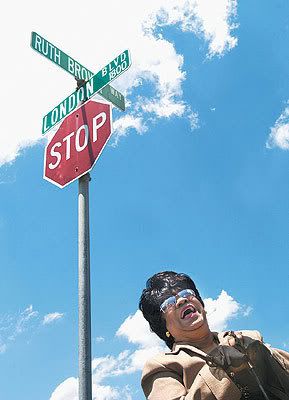 Ruth Brown in Portsmouth, VA, in May 2006. (Photo courtesy of Virginian-Pilot newspaper.)
Information for this post from VH1.com, and Malcolm Venables and Steven Stone of The Virginian-Pilot newspaper, who give a moving and in-depth account of Ruth Browns life and acheivements. Video performance provided by innercalm.