Last Friday night, I went the
Komedia Bar
in Brighton. Coming along also was my father (going for now by the moniker
Blue Eyed Handsome Dad
) for a glimpse of his Sixties past and a little generational discussion about the legacy of soul music in this island nation. And some beers. And some great soul music from an Anglophile soul man who almost single-handedly brought a live soul presence to the small towns and dance halls of East Anglia and southern England. We were waiting to see
Geno Washington and The Ram Jam Band
! My father remembered going to see Geno at a university hall somewhere in London back in 1967. It was with a mate of his, who he hasn't seen since the mid 60s. If you remember
Dave Whatman
of Auckland Drive, Bevendean, in the 60s, leave a comment!
"RAMAJAMAJAMA!"
Geno Washington
, born in Evansville Indiana, is of paramount importance in the history of live soul music in Britain. How did this occur? Geno was serving in the USAF and stationed at
RAF Woodbridge
in Suffolk. After being demobbed, he was hanging out in local clubs in Ipswich, when he happened to go along to a gig by
Shane Fenton and The Fentones
. Seeing their performance convinced him that he wanted to do that too. Geno is the only soul singer to have been inspired by Fenton, read name Bernard Jewry, later to become the glam rocker
Alvin Stardust
. Geno admits that one of the primary motivations he had for getting into music at this time was to impress women. Travelling to London in 1965 to try his hand as a singer, he was invited to join a beat group put together by
Pete Gage
.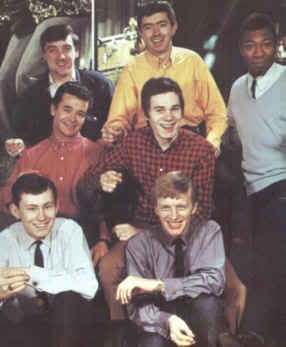 In one version told by Geno himself, the band passed by an A1 motorway service station called the Ram Jam Restaurant, and the
Ram Jam Band
they became… or they could simply have chosen the name from
The Ram Jam Club
at 390 Brixton Road where they were opening for
The Animals
!
From 1966, Geno Washington and the Ram Jam Band toured across southern England, performing covers of up and coming soul hits and their own material. It was a high-energy, non-stop performance, showcasing not only Geno's powerful voice and the Ram Jam bands tight authentic sound, but also Geno's dancing, and his humour and repartee, none of which were familiar to reserved British audiences. This was one of the few ways in which provincial soul fans were able to hear authentic soul live during that time, while waiting for the tours and revues of American soul artists. The level of touring that the Ram Jam Band put in paid off in terms of record sales, despite being signed to
Pye Records
, who as with
The Vagabonds
, did not exactly know what to do with a soul band, a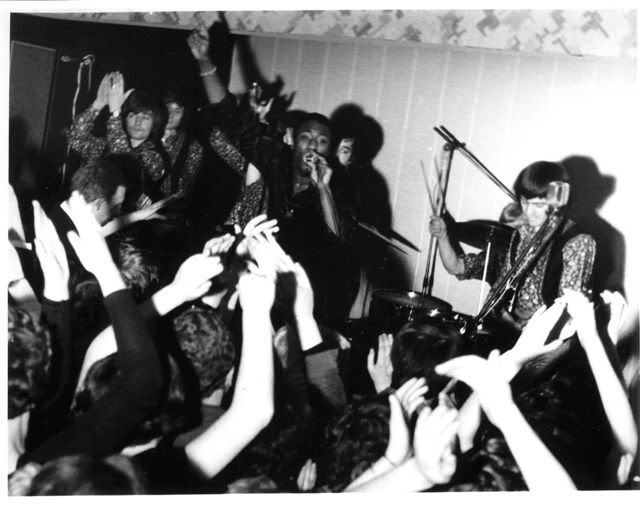 nd initially offered Geno songs such as
Que Sera Sera
. Both of the Ram Jam Bands first albums,
Hand Clappin' Foot Stompin' Funky Butt … Live!
and
Hipsters, Flipsters Finger Poppin' Daddies!
were recordings of their live performances. The first album, on Pye Record's
Piccadilly
label, stayed on the chart for 48 weeks in 1966, becoming the third- biggest-selling album in Britain of the year. The Beatles Revolver was not even in the top three…* Finally though, in the end of the 60s, Geno decided to stop the exhausting touring, which had made the record company wealthy, but not him.
After recording back home during the 70s on and off, everything changed again in 1980. A song by
Dexy's Midnight Runners
went to number one. Friends called Geno up at his home and told him:
the Number One record in England, it's about you…
Geno was back out on the road, and back in the UK.

"RAMAJAMAJAMA!"

The concert is about to begin. My father mentions some ska records that come through the post addressed for me. Just then, they start playing One Step Beyond. He says that it was around 1964 when he was travelling around the West Country on a scooter that he first heard about ska, from a group of London girls they'd met. You didn't hear it in the local Brighton clubs back then, even along at the club above the shops on Western Road next to Codrington Mansions.

Stanley 'Wolfman' Williams cranks out the guitar riff, then tenor Orlando Star and original baritone saxophonist Buddy Beagle punch through with the horns, and the Ram Jam Band start to Pick Up The Pieces. Then a familiar Otis Stax fanfare comes in, and Geno Washington comes on stage to wild applause and the first of many begin to leave their tables to dance at the front. Geno is singing I Can't Turn You Loose, with his own lyrics, then segues into Wilson Pickett's Feel It. Halfway through, he sings a dedication for tonight's show:

"I love Elvis, I love BB King;
I love James Brown, I know he'll be back again."

Geno gets us hollering back lines from Land of A 1000 Dances, and gets us clapping, and then gets us dancing with Get Up Offa That Thing and exhortations to do the Funky Broadway. The call is answered by an eager crowd made up of young hipsters and potential artificial hipsters. Geno welcomes them all:

"We're all gonna tell the truth, ain't we? Yeah! Man, I see a lot of good looking people out there tonight. Yeah! Damn! I see a lot of damn ugly ones too! … Yeah, I remember the 60s, sorta – back in Vietnam – Major Washington – I didn't fly jets, flew copters. And I also lie a lot!"

Geno volunteered wisely for a posting in England partly to avoid a more hazardous posting to Vietnam, and partly to further his athletics career, in which he excelled in 110m hurdles. He served as a physical training instructor.

In The Midnight Hour a lot of strange things seem to happen to Geno:

"Last night we were kidnapped by six skinhead Japanese! True. They made us drink six bottles of Jack Daniels! Bastards!"

Green Onions, accompanied by Geno's lyrics, becomes a melancholy plea, Maybe Can You Be My Baby. All the generations up on the dancefloor slow down instinctively to the strange, solitary, half turning, half shuffling gait:

"Maybe, can you be my baby?
Coz I've got so much love to give,
Maybe, maybe, maybe…"

and ends by pleading "Baby, please don't go back down to New Orleans you know I love you so…"

Stevie Deuce on bass leads us into Theme From Shaft, and Geno takes that into Papa's Got A Brand New Bag. Then a guitar string breaks, and Geno takes a little break, while letting us into a little secret he just made up:

"I made Eric Clapton's last guitar. Looks good. He plays like shit. Four fucking licks!"

"If we get to 11, you girls might get freaky, throw knickers on stage and shit. You might, they're just bigger now, yeah!"

Screaming Jay Hawkin's I Put A Spell On You, in which Buddy Beagle does a particularly haunting solo, becomes a musical and comic classic in the hands of Geno. Halfway through, Geno tells us a story involving the mysterious Madame Lulabelle, a fortune teller. She tells Geno that his wife, Lula-May, is cheating on him. He can't believe it, so he formulates a plan:

"I go home and put on Teddy Pendergrast singing Let's Both Wax That Ass – 'coz in my neighbourhood, if you can't score listening to that … I'm smoking a Cuban cigar, and I'm doing my best Barry White voice to my wife – 'Honey, was you faking it last night?' And she says, 'No, honey, I WAS asleep.' Shit, it wasn't funny too much!"

Geno challenges us to sing back the opening lines of I Feel Good, storms through the song, only to have one guy in the last pregnant pause yell out the last "I Got You!":

"Bastard (pronounced correctly with the double 'arr')!! Bastard! We practiced that for six months! I was even gonna do the splits, and then while I was down there, I was gonna breakdance on your ass! But HE fucked that up!"

The band back up and redo the ending, and this time, the offender gets a full dose of "Lord knows what I'd a done to yo' mama .. yo' sister …."

"But that don't make me a bad person?" asks Geno, innocently!

"Van Morrison, he used to help me out. He was the first Irishman I ever met, he always lent me 1s and 2s but never a fiver, he's so tight his ass squeaks!"

I vow never to accept a two-pound note from Van Morrison. And on to a rousing Gloria. Everyone is shouting out the name.

"Before I got confident, I'd do that Elvis pose, with your legs wide apart. Then I'd drop my microphone and stick my ass in the air! A luxury item around here! On the street it would be 'Can I touch it, can I rub it' all the time. Sometimes it would be ladies too!"

The home straight is Knock On Wood, and then back into I Can't Turn you Loose. Geno tries to go, but its back for an encore:

"I thought I'd get an easy night. Take the money and run. My lobster's getting cold back there! Don't you care? They paid the band in euros and steak and kidney pies."

The band finish with Everybody Needs Somebody, as at the Soul Britannia Barbican concert in February that was barely advertised.

The concert ends slightly abruptly with a few bars of Jumpin' Jack Flash, which just stops, just as I'm expecting a Thelma Houston style rendition.

We are left with words of wisdom:

"It is better to be pissed off than to be pissed on."


The DJ plays out with some Dexy's Midnight Runners, and I recall how at the end of every school disco in the early 80s, the teacher acting as DJ would play Come On Eileen, and people would ask if he could play Geno as well, although I am sure that in some part of my mind back then I though it was actually a song about Dino, the dinosaur on the Flintstones. Somewhere probably in the audience is Dexy's songwriter and Brighton resident Kevin Rowland, though I don't catch sight of him. Then the play the fellow Anglophile Edwin Starr's War, and Blue Eyed Handsome Dad is intrigued to know that there is a statue in his honour in the middle of Birmingham. Next up is Nutbush City Limits, and Dad reminds me of when my brother and I would listen to this on family car outings to a country pub, roll down the windows, and literally scream out our own words: "They call it CROSSBUSH! CROSSBUSH CITY LIMITS!", and howl with laughter, it being a tiny, sedate village near the historic town of Arundel. Another variation used to be Nutwood, home of Rupert Bear... Finally, the Temptations put us both in a Ball Of Confusion as we try to work out who is the female singer singing at the beginning. After a knockout evening of non-stop soul, we both head off for a good pub…

Geno Washington & The Ram Jam Band - If This Is Love (I'd Rather Be Lonely)
Geno Washington & The Ram Jam Band - Jumpin' Jack Flash
The first song is not on the Ram Jam Band's sixties records, but was an unreleased track now found on their compilation CD and on itunes. According to London Lee, who featured this last summer at the sadly retired No.1 Songs In Heaven blog, it was first recorded by The Precisions. It is a particularly good example of how Geno Washington helped to spread the popularity of some exceedingly rare soul recordings to the furthest reaches of Britain. The second song is here not only because these are the vocals the song should have always had to do it justice, but because we only heard ten seconds of it on the night!
Thanks to

The Komedia Bar

for an excellent venue and nice food. Information for this post came from various sources, including the

All Music Guide

, and the article

If The Blues Spirit Moves You

in the
News & Star,
who provided the humourous but perhaps apocryphal motorway service station anectdote. Thank you also to my guest the Blue Eyed Handsome Dad, Dave Whatman!
*the No.1 album of 1966 was The Sound Of Music, followed by Bridge Over Troubled Water.