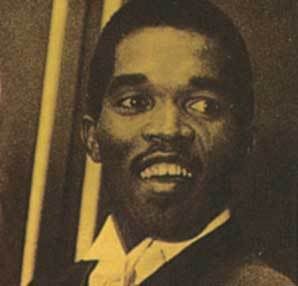 The story of the impact and influence of r&b on British society has as much to do with musical and social trends stemming from the Caribbean and Jamaica in particular, as it does the United States. I thought I would investigate some more and write a post about some of the key influences of the early 1960s. Sorry it's taken a couple of weeks to put into order!
During the years 1960 to 1964, an audience for Jamaican ska existed in Britain, thanks to the communities of Jamaican emigrés in the major conurbations. They were particularly interested in hearing this new sound, which both reminded them of home, but also heralded a new confident Jamaica on the road to independence. The music had a distinctive sound, culture and image that, for the younger generation, they could project onto their everyday, British urban environment; and it set them apart from the calypso and mento music associated with their parents. In London for example, as well as local blues dances and shebeens and their soundsystems, DJs and promoters were opening venues such as the Roaring Twenties, the Ram Jam, The Flamingo, El Partido in Lewisham, Brixton Town Hall, and Stoke Newington Town Hall which helped to promote ska. Records were imported into Britain by companies such as Blue Beat Records, and the jazz label Esquire, as well as its subsidiary Starlite. Above all other ska artists, it was probably Prince Buster who was most admired. However, while ska was popular within the Caribbean communities, in the wider society and the pop charts, it was at this time fairly invisible. City club Djs were probably carrying ska 45s with them to play in clubs in provincial towns all over the UK, intriguing the curious who would eventually emerge as faces in the mod scene, but these audiences were more familiar with rock and roll, and at that time more curious about discovering more about old bluesmen and the artists they read about in the American r&b charts. It would not be Prince Buster, but one young yet confident girl who would push ska into the popular British consciousness.

The decision by Jimmy James and The Vagabonds to leave Kingston and move to London in 1964 was likely prompted by the example set by Millicent Small, AKA Millie, who had left Jamaica the previous year with Chris Blackwell, a local producer and owner of a label called Island Records. The story of Millie is a significant one in terms of the introduction of Jamaican musical styles into popular British consciousness, and played a major part in the subsequent development of a distinctive Jamaican music industry. It is also a salutory tale, which highlights some of the significant barriers to the creation of a distinctive British r&b tradition in the 1960s.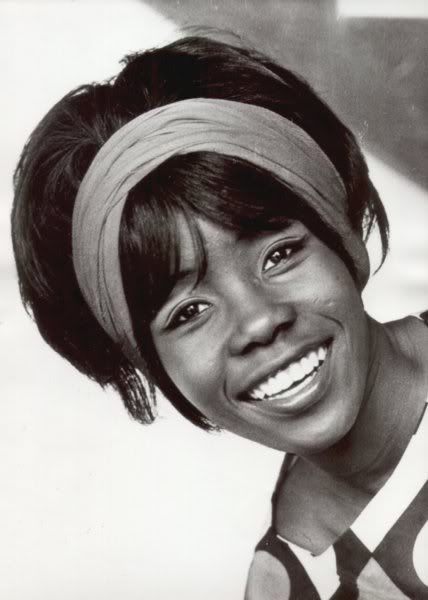 Millicent Small
was born in Clarendon on the 8th October 1947 (which is incidentally the same day my father was born!), although it may have been 1946 (Millie celebrated her 60th last year.) Her father was a sugar plantation worker, and she was born the youngest into a large family of seven brothers and five sisters. Millie's singing career began in 1960 with a win in the nationally popular
Vere Johns Opportunity Hour
talent contest at the
Palladium Theatre
in Montego Bay, Jamaica. Millie remembers the prize for the contest being about 10 shillings:
"When I won the prize money, it seemed like a fortune. I felt I was the richest girl in the world. The following year, when I made my first record (I was 13 then), the disc crashed into the Jamaican Hit Parade and gave me the most wonderful feeling of confidence. You see, when I was 9 years old, I had told my family I was going to be a film star or a singer, and you know what, they laughed!"
Success brought the twelve-and-a-half year-old Millie to the newly established
Clement "Sir Coxsone" Dodd's
Studio One
label at Brentford Road in Kingston, where she first recorded with
Roy Panton
as part of the duo
Roy & Millie
, debuting with
We'll Meet
. By 1962, Millie was a local hit, and regularly performed with
Roy Panton
and other popular local singers such as
Owen Gray
,
Jackie Edwards
and
Shenley Duffas
. However, the success of Millie and other Jamaican artists influenced by r&b and Jamaican dance rhythms was limited by certain factors. In the early 1960s, Jamaican radio and music sales were dominated by mainstream fare from England and the USA, such as Mario Lanza and Billy Vaughn, and the local recording industry was small and lacking in funds for wider promotion into other markets outside the island. There was an assumption that calypso was more commercial for export, thanks to the shortlived calypso fad in the late 50s in the US.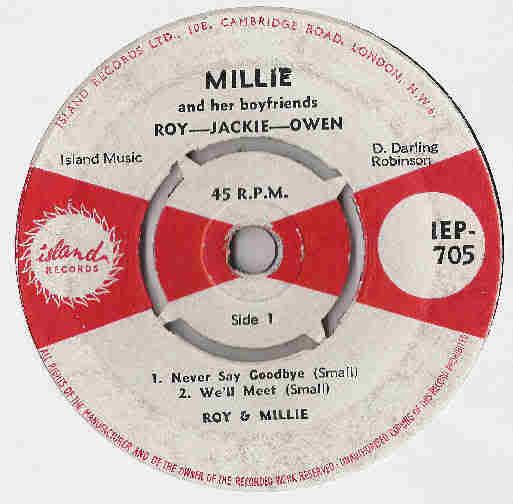 Roy & Millie - We'll Meet (Island EP 705) 1962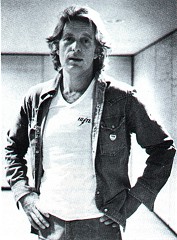 Emil Shalit
founded the
Melodisc
record company in the 1940's. To market the new ska sound he formed the label
Blue Beat
in 1960. Blue Beat was the largest company importing records from Jamaica into Britain, where Jamaican emigrés were buying more records from them and other import labels such as Esquire and Starlite than were being sold locally. It occured to
Chris Blackwell
, a small producer and owner of the small label
Island Records
, that in order to expand the music industry of the island, it was necessary to gain a wider audience for some artists in Britain.
Owen Gray
released the first LP of Jamaican (rather than Trinidad-style calypso) music in Britain,
Owen Gray Sings
, on Starlite in 1961, and decided to move to London in 1962 to make a career there. Noting the trend, Blackwell also moved Island's headquarters to London in 1962. Within a few years Blackwell had produced or licensed several hundred singles for Island and its various subsidiary labels in Jamaica and Britain, that alongside Blue Beat's efforts, firmly established a distribution system for ska in most major British cities and towns. However, none of Island's records had broken through into the British Music Week pop chart. Blackwell was still convinced that ska could become a dance and musical sensation in Britain and Europe. Looking around for a distinctive artist unique enough to make a cross-over hit, Blackwell thought of
Millie Small
, and convinced Sir Coxsone Dodd to let him manage her.
It occured to Millie herself that this was an opportunity of a lifetime. Millie made the arrangements for her passport and ticket to England personally. Arriving on a foggy day in London in July 1963, Millie and Blackwell turned to
Fontana Records
.
Jack Baverstock
, A&R Director of Fontana Records, was impressed immediately by Millie. He offered her an exclusive recording contract, licenced from Island Records, and arranged for the first recording session at Olympic Studios on Carlton Street, which became the single
Don't You Know
, which has a sweet orchestral arrangement conducted by Lord Rockingham's Harry Robinson, and strayed from the Jamaican rhythms Millie had been recording.
The first single did not break into the charts, but the second,
My Girl Lollipop
rose to Number Two in the UK within three weeks, and when released in the USA on the Fontana's US affiliate,
Smash Records
, it repeated the feat, selling over half-a-million records within five weeks of its release.
Chris Blackwell
has his own ideas about why it was this track that broke through as a cross-over hit:
"On that record, the reverb came from a sort of cupboard in the back of the studio that we used as a live chamber. It was a mono record, and we fed the sound in, adding a bit more of the reverb on Millie's voice. The record worked well for radio, but partly because it was a minute and 51 seconds. That was important for people at radio who were putting playlists together. Also, Millie's voice was irresistible-for a certain length of time, anyway. So a short record worked well for her."
The recording of My Girl Lollipop was an arrangement by Jamaican guitarist
Ernest Ranglin
, who had played on Island's first record by Owen Gray and The Caribs. It also included contributions from a number of the beat group called
The Five Dimensions.
Jimmy Powell
and Pete Hogman played harmonica on the first takes of the song, but later Chris Blackwell decided that a new part needed to be recorded, and brought in lead singer
Rod Stewart
to have a go. Both Millie and Chris affirm that this is the take that was used.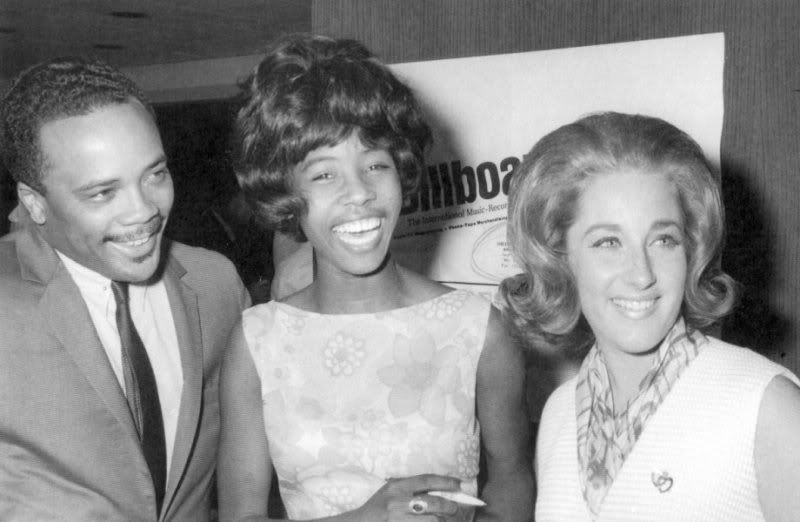 My Girl Lollipop heralded a whirlwind rise to fame for Millie, that saw her race from touring the UK to a manic reception for her in New York, hosted by DJ
Murray The K
; then back home to a hero's welcome in Jamaica, and an invitation to meet the Prime Minster Sir Alexander Montie; and back out to the USA for a proclaimed Millie Small Day at the New York World's Fair on August 12th 1964; only to return to the UK to record two TV specials with The Beatles:
"The diminutive 16-year-old with the big smile and ever-shining eyes spread new music excitement across Britannia and went up the British Hit Parade..'There hasn't been a voice like it since Shirley Temple,' headlined the Daily Express..."
- Teenville Magazine Issue #2, 1964

Shirley Temple? Here were intimations of the potential pitfalls for a Jamaican artist recording for a London record label with a broad range of popular artists. What were they to do to capitalise on Millie's recent success? There were no shortage of potential tour dates, both in the UK and worldwide, that saw her performing non-stop for over 2 and a half years, and regularly up until her 'homecoming' concerts in Kingston at Easter 1971. Chris Blackwell was able to earn enough money to finance his ambitions for Island Records. However, any future expansion of the label, and promotion of other homegrown Jamaican talent, would take time, and all lay in the future. What Fontana did not have right now in 1964-65, and Chris Blackwell was unable to provide, was a roster of similar acts upon which to build. Collaborations with
The Spencer Davis Group
aside, Millie and Blackwell were in a difficult position. Lollipop was immensely successful, and to the present day has sold over 7 million copies worldwide. But in the London music business of 1964, it was a curio and novelty, an interesting dance record, and Fontana gambled rightly that this was the best way to market it to a wide audience. Millie's records would look like, if not sound like, any other Fontana female singing star's.
Jack Baverstock
had made his name at Oriole/Embassy Records in the 50s and later at Fontana with his ability to tap into the latest pop craze, quickly turning out 'chinese copies' of upcoming hit songs with the help of John Gregory's orchestra, and selling them at discount prices through Woolworths stores. A new single with a similar vibe,
Sweet William
, was released in July 1964, aimed at making another similar hit to capitalise on Millie's publicity, which reached No. 30 in the UK. Sadly, this was not the start of a heralded ska revolution. Fontana and other British labels were not looking for another new sound just yet. Fontana was itself in a strong position signing up the new 'beat' groups of young British r&b, and had the example of The Beatles to follow as a ready-made business model. Even Chris Blackwell, for all his enthusiasm for ska, had also been using his time in England to make connections to the 'mod' scene, eyeing up talent in the pubs and clubs of Birmingham...
Millie Small - My Girl Lollipop (Fontana TF449) 1964

Despite all these inhibitors to a blue beat and ska explosion in early and mid 1960s Britain, the impact of Millie and other ska artists had not been insignificant. Jamaican r&b had been given a worldwide exposure from London to Birmingham, from Lagos to New York, where Prince Buster and others had joined Millie at the World's Fair. The infrastructure of the Jamaican record industry had been given a massive boost, enough to secure its future development for itself. Significant creative artists in the British r&b scene had worked with Millie and come into greater contact with Jamaican musical trends, and a similar process would start to occur in Memphis and Chicago as the sounds that Jamaican musicians had taken from there and adapted now made their way back. Ska was immensely popular and entrenched in the social scenes of the Black British communities of many towns and cities. Thanks to Blue Beat, Starlite, Island, Studio One and later Trojan, a thriving production and distribution system was bringing Jamaican music to UK markets, and so the new product of ska artists was readily availble in mid 60s Britain. Record outlets such as Musicland in Deptford and Joe's Records in Brixton, and the committed music salesmen and promoters behind them such as Joe Mansano, were responsible for getting the product to this market. Prince Buster was able to record and distribute a phenomenal 600 different singles from 1962 to 1970, and found a viable market. He appeared on the popular TV show Ready Steady Go in 1964, having just broken all records with a sell-out concert at Brixton Town Hall. His song Al Capone broke into the Top 20 in the UK in 1966, and gave a distinctive twist to the 'gangster' trend sweeping through the pop chart that year courtesy of Georgie Fame. This entailed a significant level of sales, proving the ska beat had made its impression on the mod culture. By that year, Prince Buster was able to make a tour of Britain that included venues such as The Guildhall in Southampton, the Atlanta Ballroom in Woking, the Tabernacle in Stockport, the Shoreline Club in Bognor Regis, and the Starlite in Crawley - all venues somewhat outside of the early major settlement areas of Caribbean immigrants - as well as venues such as the Marquee, the Brummel Club in Bromley, and the Beachcomber in Nottingham. As Jamaican music continued into its period of innovation from ska to rock-steady and into reggae in the late 60s, they would be transmitted to a growing British audience, where in the 1970s, they would contribute to the development of home-grown and sometimes multiracial musical movements.
Prince Buster & The All Stars - Al Capone (Blue Beat 324) 1964

As for Millie Small, now settled in England, she continued to ride the fame of her hit singles and continued touring and making records which sold to a smaller but appreciative audience, and began to tackle a number of issues concerning black and white relations in Britain head on. One fly in the ointment was, as often in the music industry,
Chris Blackwell
had not been entirely upfront about his business dealings, and Millie was lucky to see anything but her expenses paid and a share out of the tour profits. He and Island profited from the royalties associated with her biggest hit. Recently, aged 60, Millie revived her recording career with producer Arly Cha of Yardie Style Records. They have recorded a new album 'Millie Is Back', which came out last October.
Information for this post compiled from:
Teenville Magazine Issue #2 from late 1964, as hosted by
www.spectropop.com
. The article 'Chris Blackwell: FROM LP TO DVD, STILL LIVING THE ISLAND LIFE' by Dan Daley for MIX magazine.
'Millie not so 'small' anymore' published on October 15, 2006 by The Jamaican Gleaner newspaper to celebrate her 60th birthday.
I found a lot of fascinating facts and images of flyers for various clubs at the Ska2Soul website, a site that specialises in telling the story of the British ska experience from the mid 60s onward.
For an introduction to ska itself, try this
short history of the origins of ska also from Wikipedia.
Millie's

greatest hits album,

Time Will Tell

, is available at

itunes

. It contains both the tracks featured today.