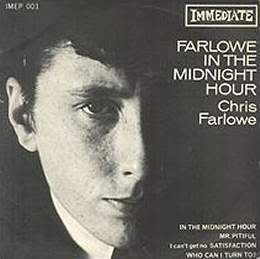 Its the Swinging Sixties!
As I didn't know where to start, I'll start with some of the best!
Amongst the blue eyed soul singers that emerged in the early 60s in Britain, few were as well respected as
John Henry Deighton
, more famously known as
Chris Farlowe
.
He had begun like countless other teens in the mid 50s as a
skiffle
fan, worshipping the grating folksiness of
Lonnie Donegan
and his ilk. The
John Henry Skiffle Band
actually won the All-England Skiffle Championship in 1957. Over the next year or so, the repertoire of the rock and roll group gravitated more and more away from rock and roll numbers towards r&b. In 1962, John renamed himself Chris Farlowe, in honour of jazz guitarist
Tal Farlow
(who at that time had mysteriously 'disappeared' from the jazz scene, to much debate amongst jazz cats)
and the band became
The Thunderbirds
. They got a residency playing at the
Flamingo Club
in Soho, and were noticed by
Decca Records
. On their first single, an innocuous number called
Air Travel
released in November 1962, you can clearly hear the impact that a certain
Sam Cooke
had had on the country during that year. However, nothing came of the record.
Click Here to listen to Air Travel by Chris Farlowe And The Thunderbirds.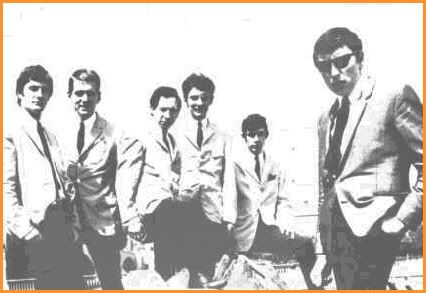 The band then signed a deal with
EMI.
They were to release a number of singles on the Columbia imprint. Despite creating some great singles the Thunderbirds were not getting hits. Ironically in 1964, when they released a single as
The Beazers
, called
The Blue Beat
, in which guitarist
Albert Lee
mimics the guitar strumming of ska under a conventional r&b melody, they had a dance hit. Albert, who went on to have along career as a respected guitarist across blues and country, joined the band after playing guitar with a number of bands, touring England and doing regular stints in the clubs of Hamburg. He was impressed with what he saw in the Thunderbirds, and stayed for four years:
"In May 1964, I joined Chris Farlowe and I stayed with him four years. I thought it was a great band - the best in Britain at what we did...but we never got much in the way of recognition or public acclaim. It was very frustrating; we'd support bands like The Animals, who were terribly ragged in comparison, with very little feeling or finesse - and they'd go down a storm while we got a smattering of applause from the few punters who weren't in the bar. I've got tapes of some of our gigs and they still stand up - some of our stuff was killer! Farlowe was a dynamite singer! But there was practically no crowd reaction. We worked solidly for years...tours, one nighters, all nighters, doubles, trips to Germany and Scandinavia - we went all over the place, but we never cracked it beyond a certain level."
In 1965, another class tune,
Buzz With The Fuzz
, was released to much mod acclaim, only to be withdrawn from sale when EMI's management realised that it might constitute a provocation towards the police.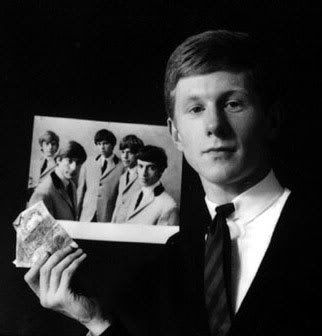 Then in 1966 an offer came from
Andrew Loog Oldham
, manager of
the Rolling Stones
, who had set up a new label,
Immediate Records
, which was also distributed by EMI.
Not only was Oldham more receptive to the sounds of r&b, he could also call on the songwriting of Jagger and Richards for his artists. Farlowe was impressed , and joined other similarly soul-inflected vocalists such as
Steve Marriot
of
the Small Faces
, and later
P P Arnold
, at the label.
Eric Burdon
, of
The Animals
, was asked to produce Chris Farlowe's first two singles, and was faithful to Farlowe's r&b sentiments, though who knows what Albert Lee thought of him at the time. Some outstanding albums and EPs followed, three in 1966, starting with his showcase of soul classics,
Farlowe In The Midnight Hour
. Farlowe had garnered so much credibility with British fans that he and Eric Burdon were asked to appear on a special edition of the TV show
Ready Steady Go!
with
Otis Redding
.
It was the third single,
Out Of Time
, however, written and produced by Mick Jagger, that struck the right vibe, reaching Number One in July 1966. I think that while often dismissed as a Rolling Stones cover
(the Stones recorded it for their album Aftermath earlier in March)
, and derided for its powerful orchestration, it is a wonderful Deep Soul number, in which Farlowe positively delights in giving a woman the bad news that this relationship is not just going to pick up where she left it after leaving for another man. It was so powerful it enabled England to win The World Cup!
The Beazers (Chris Farlowe & The Thunderbirds) - The Blue Beat (Decca F 11827) 1964
Chris Farlowe - Out Of Time (Immediate IM 035) 1966
Sadly, by 1967 and 1968, the cultural influences arriving in the UK were no longer dominated by soul music, and while other bands were willing and able to adapt and embrace psychedelic culture, Chris Farlowe was struggling to continue in the same r&b vein he had always championed. Despite a series of outstanding relases, the hits dried up, and he was out of a record contract in 1970. Farlowe was not eager to go down the popular cabaret singer route that others like Tom Jones opted for in these years. It must have been a blow to see
Rod Stewart
that same year acheive a hit with his frankly inferior version of
Handbags And Gladrags
, a song that had been specifically written for Chris by
Mike D'Abo
of
Manfred Mann
. Sadly, it is the Stewart version that semi-Britpoppers
The Stereophonics
attempted to mimic with their recent hit.
The next few years saw him join up with a number of prog rock bands as a vocalist, including
Atomic Rooster
and
Colosseum
, suffer a two year hiatus after a nasty car accident, before leaving the business temporarily in the late 70s. In the 80s, Farlowe decided to return, this time trying to tap into the adult blues market, and has made a successful new career touring solo, with his 70s band
Colosseum
, a reformed
Thunderbirds
, and with
Albert Lee
. So once again you can hear the voice of Chris Farlowe in the
North, South, East And West
(yes, this is a plug for another great Farlowe track...)

Information about Chris Farlowe from many conversations and the voluminous mod record collection of John Bennett,
www.45-rpm.org.uk
, and the
Chris Farlowe website
. Albert Lee quote from
O O'Connor's fan site
.
Photos from the collection of Lisa and Georg, two big Farlowe fans from Germany who were once part of German beat band The Fenders. Request to hear The Blue Beat came from Blue Eyed Handsome Dad!