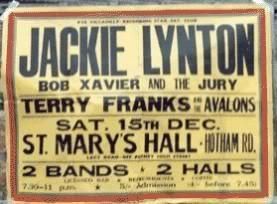 While perusing the internet for info about Chris Farlowe, I read this excerpt from an interview with guitarist Albert Lee. It gives a little bit of an insight into the influence of US airbases, r&b, and the Caribbean community on the beat explosion:

"In 1961 ... I ran into this bloke called Bob Xavier, who asked me to join his band. So I wore a variety of open necked silky shirts and worked American airbases and London clubs for over a year.

Bob Xavier was West Indian, and the band was modelled on Emile Ford and the Checkmates. Most other groups around town were still doing rock'n'roll, but we were into Drifters/Brook Benton sort of stuff...but in summer '62 Xavier left and we became the house band at the 2Is [paid 18 bob a night].

We'd play in the cofee bar 5 or 6 nights a week - backing whoever wandered onto the stage...and at weekends we would go out of town doing one-nighters backing Vince Eager, Keith Kelly and Jackie Lynton (who were all managed by Tom Littlewood - owner of the 2Is at the time)."

The band were called Bob Xavier & The Jury, and recorded a single with Jackie Lynton after Bob Xavier left. I found a picture of an old gig poster, but nothing else concerning Bob Xavier, or what he went on to do. If anybody knows anything about Bob Xavier and The Jury, I'd love to here from you!